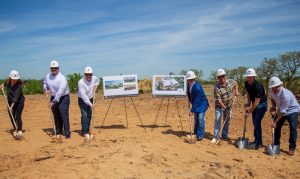 The Lantana Community Association broke ground Friday on its newest amenity.
The 4,800-square-foot Lantana Community Center at the north end of Lantana Trail will serve as a much-needed gathering space for both indoor and outdoor events. It will feature two activity rooms that can be used simultaneously or combined into one large event space, a catering kitchen and will be surrounded by outdoor event lawns and play spaces.
Residents will have the opportunity to reserve the space for personal use and will enjoy programming that the association previously could not host regularly due to a lack of facilities.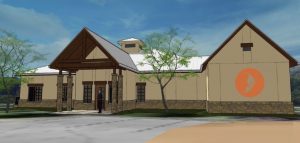 "Our lifestyle program is growing," said Lantana Community Association Manager, Mark Norton. "The [current] North Amenity Center room is busting at the seams for a lot of our events and we are actually having to turn people away because the room is packed."
The Association has contracted with Ratliff Hardscape to build the new community center. Ratliff built most of the retaining walls in Lantana.
The project will cost around $1.8 million and will be funded by a budget surplus, according to Norton.
"This center keeps Lantana relevant for the next 15 to 20 years. It keeps us on par with other master-planned communities in the area. They're not offering anything that we don't have," said Norton.
Construction will begin this month and the center is expected to open by March 2020.