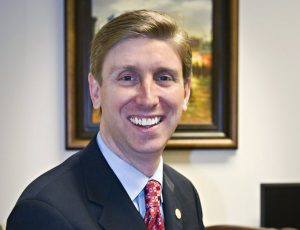 Your Texas Legislature is rapidly progressing through the 140-day legislative session and generating policy decisions to set the course for Texas' continued strength and vibrancy. I am thrilled to see the incredible energy throughout the Capitol and the many people from Denton County who are participating in the process. Just recently, about 200 area leaders visited Austin to share ideas on how the state can best partner with our local communities. We talked property tax reform, education, transportation, mental health, and other important topics that are being discussed by legislators and community voices alike.
One of the most notable discussions thus far is how we can help Texans achieve the American Dream of homeownership without fear of rising property taxes that undermine this cherished freedom. Lawmakers are currently working to finalize a tax solution to offer the reform that has been needed for far too long. Additionally, legislators are addressing how the state funds our public schools as we build strong futures for not only the children of today, but for generations to come.
However, the most significant challenge we must address during the 86th Legislative Session is school safety. While we are unified that no one wishes to relive the horrific images from any school shooting, the reality is we must take the conversation well beyond the news cycle and social media. We must enact meaningful reforms that protect the most precious and vulnerable in our society.  As a father and lawmaker, I fully believe it is paramount for all Texans to do their part to ensure our children attend school in a safe environment as no one should endure the unimaginable heartbreak that has previously shaken our state and nation.
In May 2018, Texas Governor Greg Abbott issued recommendations on improving school safety.  Both chambers of the Texas Legislature also took action to conduct hearings and issued respective interim reports on reducing school violence. As the 86th Legislative Session began in January, the Governor designated school safety as a priority item, which will allow the measure to be acted upon rapidly.
There is not a one size fits all approach to school safety, and the proposed solutions vary from hardening our campuses with enhanced security measures, increasing our school resource officers, improvements to mental health, additional funding mechanisms, and more.  Viable solutions require collaboration on all levels and a willingness to enact real change for the wellbeing of our children and educators. Engaged communities, school boards, students, and educators recognize the strengths and weaknesses of their individual campuses, and need flexibility in order to create a plan that will prevent another horrific tragedy.
While many promising solutions are being discussed and prioritized, I want to highlight two items of legislation making their way through the committee process in the Texas House.  Keep in mind, these bills are merely just the beginning of several pieces of decisive legislation related to school safety that lawmakers are working through.
House Bill 17 provides direction on implementing safety measures through coordination with the Texas School Safety Center with accountability metrics that will ensure the safety plan at each school campus meets a statewide minimum.  Additionally, enhancements to facility construction standards, training for employees, and greater public input will be required in this bill.
The Texas Education Agency must also adopt rules with an annual review that will ensure our public schools are safe and secure. The Multihazard Emergency Operations Plan (MEOP) will include a chain of command for disaster/emergency protocols, and immediate notification to parents of any significant threat.  A district found non-compliant with reporting requirements will be required to hold a board meeting notifying the public and solicit input to begin the remedy process. There is also a focus on having broad local involvement in the School Safety and Security Committees that are required to meet a minimum of three times per year.
There is no greater investment than the safety and wellbeing of Texans, and we must be unwavering in our ability to provide resources that keep children safe. The second bill, HB 1754, creates a school safety allotment to assist school districts as they implement the new safety measures generally described in HB 17.
State lawmakers must take bold action this session to keep our school children safe. I hope you will join me in following this critical issue.
You can follow this policy topic or any matter before your Texas Legislature by either contacting me at 512.463.0688 or [email protected].  The Texas House of Representatives website, www.house.texas.gov, provides a research option to search for any topic and the actions taken throughout the process as well as live video feeds. Government works best when people are involved, and I value your input and the privilege to represent your voice on state policy.