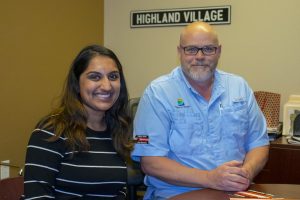 By Nikhila Bulusu and Don Strange
Recently, there have been some changes made to the code enforcement division at the City of Highland Village.
In a nutshell, code enforcement is the City working with citizens to improve the quality of life in Highland Village by enforcing City ordinances.
Many people often confuse the building code and the nuisance code. The City deals with nuisance code which includes tall grass or weeds, illegal dumping of garbage, bandit signs, and more. Highland Village Code Enforcement officers are licensed by the State of Texas.
Since code enforcement officer, Don Strange, took over the division he has implemented new technology and strategies to make the process more efficient.
"Our goal is to improve the quality of life, and protect property values in Highland Village. Enforcing City ordinances related to public nuisance issues is one way this goal can be achieved," Strange said.
Strange was a code enforcement officer for the City of Lewisville for 11 years before moving to Highland Village and also has a background in public works. After he took over, dialogue between the City council and staff resulted in an initiative to take a more proactive approach to maintenance issues throughout the City. Now, they have implemented a program in which the city is divided up into 5 zones and the officers will proactively go out and look for violations. They still respond to complaints, but they are striving to reduce the number of complaints that come in by actively searching for violations.
"If we see something coming up, we're not just responding to it," Strange said. "We're addressing it as soon as we see it."
The way to voice a complaint is through the Eye on Highland Village app. Through this app, residents can send in photographs and information about a violation and the code division's system will show them exactly where the violation is on the map. Strange explains that the first thing he does each morning is check the app to see what violations there are. The most common types of violations are related to grass, weeds and garbage.
Another big change in the division since Strange took over is the implementation of City works, a standalone system for code cases. Previously, officers relied on notes and paper but with this new technology, they can now see what's happening live.
The main goals for Strange, since taking over the division, are to have 80% voluntary compliance or better for those who do receive citations and to be able to beat citizens to finding violations.
"The biggest goal is to see violations before there can be a complaint about it," Strange said.
Two ways residents can help out with code enforcement is by using the Eye on Highland Village and volunteering to help those who can't take care of their property. In the future, Strange plans on implementing volunteer groups and developing a contractor tip sheet for property owners who live out of state.
Below are some statistics on Highland Village Code cases from September 2018 to present. The city has addressed over 355 different code violations including 100 grass and weeds violations, and 133 trash and debris violations, just to mention a couple. Of the 355 cases opened, over 325 cases have been closed via voluntary compliance for a compliance rate of over 90%. The following charts and graphs represent a typical week, and the annual totals at the time of this interview.
About the Authors:
Nikhila Bulusu is a senior at Marcus High School and works part-time as an intern in the Marketing & Communication department for the City of Highland Village. She is the feature editor for The Marquee, her school newspaper. Bulusu has been involved with DECA, a competitive business organization, for the past few years, which has inspired her to study business in college. She hasn't made a final decision on what school to attend next year, but is excited to meet new people, learn about subjects, and start a new chapter of her life.
Don Strange is the streets and code division manager for the City of Highland Village. Most recently Strange earned the Certified Public Works Professional Manager designation from the American Public Works Association. He began his career in public works with the City of Carrollton in 1985 and has been with the City of Highland Village since 2015. Strange manages and mentors code enforcement officer Andrew Perez as they work to maintain the quality of life and property values in the City of Highland Village.
Through the Lewisville ISD internship program, students are able to work for local businesses that align with their program of study.  They gain course credit for completing the experience.  LISD will also be hosting a summer internship program.  To learn more about LISD internship programs, visit lisd.net/internship.  To request information about hosting a summer intern, email [email protected].