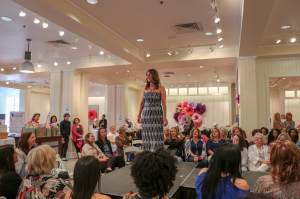 The Women of Flower Mound group is preparing for its most popular FUNdraiser of the year, coming up next month.
The 2019 Women of Flower Mound Spring Fling Fashion Show is scheduled for April 13 from 11 a.m. to 1 p.m., at The Shops at Highland Village. The event will include:
The latest women's, men's and children's spring fashions, provided by The Shops of Highland Village
A Taste of the Shops – attendees will sample menu items from Shops eateries, and enjoy a scrumptious dessert table.
A Gift Basket fundraiser will give attendees the opportunity to take home beautifully themed gift baskets – with 30+ themes, we have something for everyone!
Guests will receive Shops goodie bags filled with samples, coupons, and exclusive offers.
Finally, participating Shops merchants will offer specials for Spring Fling attendees to enjoy after the show.
Tickets are $45 in advance or $50 at the door (space permitting). Purchase your advance tickets at www.womenofflowermound.org. Members, non-members, spouses and friends are all welcome. Proceeds will be used to award college scholarships to Flower Mound area high school seniors.
WOFM is a nonprofit that has served the Flower Mound community since 1975. It provides local students with scholarships and supports other nonprofits.