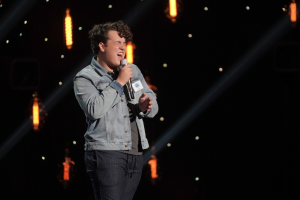 A local teenager recently had a dream come true with a successful audition on "American Idol."
Hunter Roy, a 19-year-old Guyer High grad from Double Oak, said he's been singing since he was 13.
"It's the only thing I do," Roy said. "I practice every day for hours. I enjoy it a lot."
Roy, who is also a pre-med student at the University of Texas – Dallas, had auditioned for the well-known singing competition shows "American Idol" and "The Voice" before, but hadn't made it on the shows. Then last summer, he submitted a video to "Idol" again and was called to a private audition in Dallas.
He got the response he was looking for.
"I was shocked," he said. "It was very surreal, really cool to finally make it on the show."
Roy said he was influenced by a lot of 90s music and R&B and pop singers, such as Michael Jackson, Justin Timberlake and Whitney Houston. He calls his musical style a mixture of R&B, soul and pop.
At the celebrity audition, Roy got the golden ticket from the judges after his performance of "Lately" by Stevie Wonder. He can't say how far into the competition he got, but you may see him on the show, which is currently airing on ABC on Sundays and Mondays at 7 p.m.
You can follow Roy on Facebook, Instagram and Twitter.