A large crowd of local residents attended a Texas Department of Transportation public meeting in Justin on Thursday to find out about how the state is considering expanding a 13-mile stretch of FM 407 from Justin to Bartonville.
TxDOT is conducting a feasibility study on FM 407 from west of FM 156 (in Justin) to FM 1830 (at the Argyle/Bartonville border). The purpose of the study, according to TxDOT, is to analyze and evaluate potential roadway options to improve daily travel conditions on FM 407, currently a two-lane highway throughout the area included in the study.
"Improving FM 407 is definitely a major endeavor," said one of the TxDOT exhibit boards. "However, because local developments and residential populations will continue to increase the FM 407 traffic volumes and travel demands, it is important to plan now for a reliable and operationally efficient FM 407 facility."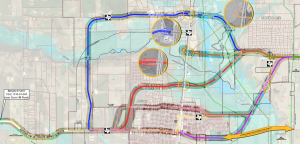 The maps and diagrams available at the meeting showed TxDOT is considering expanding FM 407 to a four-lane divided highway throughout the study's area, with rural, semi-urban and urban sections. In Justin, it is considering one of several different routes through town, as shown in the concept map.
In Argyle, TxDOT has two alternatives for the intersection of FM 407 and Hwy 377, which will also be expanded to a four-lane divided highway. It could remain as it is — a traffic light intersection often impacted by the railroad that runs along Hwy 377 — or it could be constructed as a half cloverleaf interchange that would include a bridge to let FM 407 cross over 377 and the train tracks.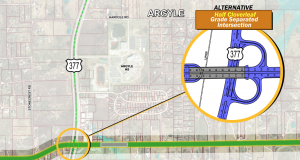 TxDOT would also plan to accommodate bicycles and pedestrians in portions of the study, lessen land and environmental impacts and address safety issues. There is also a no-build alternative, with no roadwork beyond prior improvement commitments and routine road maintenance.
After factoring in public comments from Thursday's meeting, TxDOT will recommend a technically preferred alternative — likely this summer — and present that at a final FM 407 public meeting, likely this fall or winter.