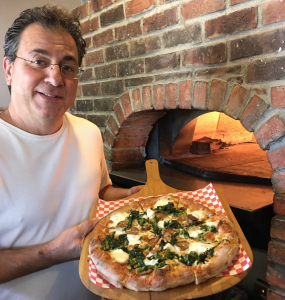 Fiori, a family-owned and operated casual Italian restaurant, is preparing to open soon in south Flower Mound.
Brothers Sam and Michael Billelo have grown up eating delicious, authentic Italian family recipes, Sam said. Their grandparents are from Palermo, Italy, and their father, a chef, is from New York. Sam said he's been working in Phoenix for the last 10 years, helping run his father's restaurants: Bella Luna and Sal's Tuscan Grill.
But recently, Sam wanted to move to North Texas to be closer to his siblings and their families, and he and Michael — who has also been working in restaurants for the last 10 years — decided to open their first restaurant together.
"We like Flower Mound, we like the neighborhood," Sam said. "We didn't want to be in a big city, but we wanted a place we can settle down."
Sam will be the chef and Michael will run the front of the house at Fiori Italian Restaurant & Bar, which will be a casual environment serving simple, homemade Italian food, many dishes made from recipes passed down generations. The ambiance will be a rustic Italian setting, "like a rural Italian farmhouse that you would come across in the Italian countryside," Sam said.
The menu will move seasonally from the spicy summers of Sicily to the hearty winter fare of Northern Italy, using local seasonal ingredients, Sam said. The menu will feature fresh, handmade bread and pasta, 10 different bruschettas, many appetizers and snacks, old Italian classics, some pizzas, homemade desserts, cocktails and Italian wines. There will be a lunch menu, vegan menu and gluten-free menu, with homemade gluten-free pasta.
Fiori is expected to open at the end of April at 1221 Flower Mound Road, Suite 100, which was most recently operated by the Salt Rock Steakhouse.