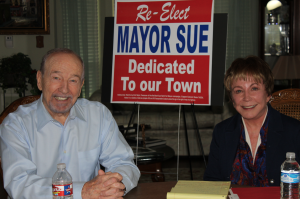 Sue Tejml has been the Mayor of Copper Canyon for the past 14 years. She is being challenged by Ron Robertson, whose interview appeared in The Cross Timbers Gazette on Thursday, March 21. Mayor Tejml came over for her interview on Saturday, March 23.
A native Texan, raised in Corpus Christi, Mayor Tejml has been a resident of Copper Canyon for 28 years. She's married to Emil Tejml, an engineer and attorney. They have three adult children and 7 grandchildren. Ms. Tejml was a stay-at-home mother until she became an attorney at the age of 40. During their marriage, the Tejmls have made corporate moves that took them to 4 states, 6 Texas cities and a period of time in which they worked abroad.
Her education includes a B.A. in history from the University of Texas; a M.A. in history from Texas A&M University at Kingsville; a full scholarship to Rice University toward a PhD in history; New York University Law School (one of the top 10 law schools in the country) for 2 years; and a LL.B. Degree from the University of Houston Law School. A Copper Canyon debate forum is scheduled for Sunday, April 7 at 2pm, at Copper Canyon Town Hall, 400 Woodland Dr. The following is some additional biographical info supplied by Mayor Tejml:
"For 14 years I have personally written a monthly mayor's column in The Cross Timbers Gazette, entitled 'What's Happening in Copper Canyon.' The Gazette is a local newspaper with a circulation of 47,000 (second in circulation in Denton County only to the Dallas Morning News). This has been my attempt to keep residents informed of events in our town and also of subjects of general interest in the area, i.e., roads, water, gas well drilling, etc. Transparency is always my primary goal! The following are some of my other activities:
Argyle Volunteer Fire District Board   (Served 14 years, 2005 to present)
Denton County Emergency Services District #1   Our small town's dilemma was inability to adequately fund emergency services. The Founding Committee's task was to educate residents on the benefits of an ESD. The ESD would collectively provide fire and emergency medical services to the towns of Argyle, Bartonville, Copper Canyon, Corral City, Northlake, and FWSD #6 and #7 in Lantana. But a specific property tax would be needed to fund it. ESD#1 was created in 2006 by a 62% positive vote in a district-wide election over 65 square miles.
Neighborhood Watch and Crime Prevention
Copper Canyon does not have a police department. Resident Block Captains were recruited for each street in town. Our Town Council then contracted with Denton County Sheriff for Deputies dedicated to Copper Canyon. On every shift the Deputy patrols each street in Copper Canyon at least once and sometimes twice. Result is a virtually crime free community for past decade.
Dallas Morning News: Copper Canyon one of 10 Best Communities in DFW Metroplex!
Spring 2016. Town rated #6 for safety – a prime concern for all individuals and families!
Maintained Same Low Tax Rate for Last 5 Years:   .297505 includes road bond. Under spend budget each fiscal year. Roll surplus into Road Fund or Crime Prevention Fund.
2009 Road Taskforce: One person from almost every road in town. Town wide election approves $2.5 million bond that rebuilds 90% of 25-35 year old interior residential roads. Standard & Poors AA- rating (now AA+) County funds $14 million to rebuild perimeter town commuter roads in concrete: Copper Canyon Rd, Orchid Hill Ln, Chinn Chapel Rd.
Drafting Committee: "Best Practices for Municipalities and Gas Pipelines" 2010
This was a collaborative effort of Mayors, Denton County Commissioners, and the Texas Pipeline Association. The goal was to expedite safe pipeline construction, but with a minimal impact on landowners, local businesses, and future development plans of each city.
Initiated Annual Denton County Mayors Crime Luncheon – 7 years (2012-2019)
The goal was to coordinate information on area crime between the Mayors, their Police Chiefs, the Denton County Sheriff's Office, the Commissioners Court, our Legislative representatives and our US Congressman. CoServ Co-Sponsors this annual event with food & financial funds!
DENCO 911: Vice Chair–Board of Managers, 6 years, 2013-2019. Elected for 3 terms by major majority of the 33 Denton County city members. Personally update 8 city councils each year on 911.
LEGAL: Solo Attorney 15 years (General Civil Practice – municipal, family law, oil & gas). Matagorda County Bar Association – President,   Denton Bar Association – State Bar of Texas – State CLE Committee, District 5 Admissions Texas Bar Foundation – Life Member.
FAMILY LAW: State Bar Board Certified in Family Law   (10 years)
Texas Supreme Court Committee on Child Support Guidelines
Texas Supreme Court Committee on Child Visitation Guidelines
MUNICIPAL: City Attorney of Bay City, Texas   (6 years; population approx. 18- 20,000)
Municipal Prosecutor of Bay City, Texas. Legal Advisor to Bay City Police Department. Bay City Charter Commission (City wide elected Public Office, elected Co-Chair)
VOLUNTEER:   CASA of Denton County   (2 years)
(Volunteer as a Court appointed Special Advocate for abused children). HUG Romania – Volunteer in a Romanian orphanage for 3 weeks
Early voting begins April 22nd and Election Day is May 4.