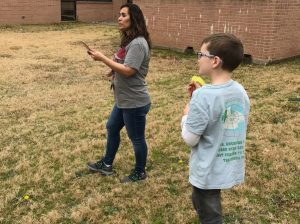 By Bryce Novarro
The room is filled with artwork on the walls, kids chattering to one another at their tiny tables and homework being finished at the last minute. You can almost feel a sense of childhood wonder and urgency in the air. The bell rings its loud ding and the room comes to a halt. Class is ready to begin.
This particular class is taught at Garden Ridge Elementary by third-grade teacher Monica Taglieri. As class begins, she reminds the class that they are now on "spy talk." Spy talk is another way of saying it is time to start whispering. It is this kind of creativity that Taglieri typically brings to the classroom.
"I always try to be firm with the students, but do it in a way that seems fun for them," Taglieri says. "When you tell kids to act like a spy and whisper, kids are more likely to respond more positively to that than to tell them to just keep it quiet."
Taglieri has been a teacher now for four years. However, she is clear to point out that she has been in education for more than 10 years now. She was first a teacher aid back in California where she used to live. When she moved to Texas, she put off becoming an educator to take care of her kids.
With her two kids out of the house and in college, Taglieri felt that it was time to pursue what originally drove her passion back in her home state.
"I have always had a passion for working with kids and felt it was the perfect time to go back to school and get my teaching certificate," Taglieri says.
As the day moves on, Taglieri really starts to show off her creative streak in spectacular fashion. She has the kids start a new project called "the power of yet."
"The power of yet is really about empowering the kids to not get discouraged when something is too difficult for them," Taglieri says. "While they may not be able to do a certain multiplication table yet, eventually they will be able to complete it."
Taglieri says that encouraging her students through creative means such as this one are meant to uplift the students even when they struggle.
To Taglieri, it is personal to make sure that her students are not only learning new things but also enjoying the time they spend in school.
She didn't always feel like her teachers valued the work they were doing while she was growing up. Everything changed when she had one teacher really take an interest in her. This was the moment she realized school was more than just about learning.
"I had always made good grades in school, but I always got in trouble because my school was very strict and restrictive," Taglieri says. "Then in middle school, I had a teacher that didn't scold me, but translated my energy into something more positive."
That educator, in particular, changed Taglieri's view on what school could actually be like.
The students rush to be line leader as they head towards the cafeteria for lunch. Lunch is one of the few moments Taglieri isn't surrounded by kids all day.
Debbie Foster, one of Taglieri's closest friends and colleagues, joins her for lunch each day in her classroom.
"Monica just has a way with the kids in this school," Foster says. "You can tell that they all respect her tremendously and really enjoy being in her class."
Taglieri likes to model her method of teaching after what she experienced with her middle school teacher. She knows that assignments such as spelling tests and worksheets will always be a part of teaching, but she wants to mix fun and creative assignments into her everyday routine.
After recess, Taglieri wants to teach the kids about the weather and how different instruments measure different forms of weather. Each person gets a streamer and a pencil. Taglieri helps tape each streamer to a pencil. Outside, the class lifts their new device up to the sky to see which direction the wind is coming from.
"I do activities that are more hands on such as this one because I love to watch kids eyes light up when they learn something new in an interactive way," Taglieri says. "You don't always get this type of excitement inside the classroom doing another worksheet."
The chatter of young minds starts to dwindle, the busy classroom begins to empty and all is peaceful in the classroom again. It is at this moment that Taglieri finally gets time to comfortably sit in her chair, shoulders now relaxed, and enjoy the sound of an empty classroom.
"This is the only job in the world for me," Taglieri proudly exclaims. "I may not make the most money or have the most stress-free day, but I truly love what I do and am excited to come into work each and every day."