It was the 1 a.m. phone call that nobody wants. Mama cell. From a dead sleep to my greeting of what's wrong, the reason for the call was the most bizarre thing we could have ever imagined. My sister's house was burning down.
Just hours before, I had arrived from visiting my Mama three hours away and my bags were not yet unpacked. It was an ordinary night with close friends. There was no reason to ever imagine the potential horror of what I would learn in the next few hours.
My friends surrounded me in the middle of the night as I conversed with my baby sister four hours away. Everyone got out of the burning house unharmed with the exception of the family hunting dog Mae who became cornered and perished in the fire. Hearing her say that there was nothing else in the house that mattered gave me great comfort as my heart pounded and I wondered what my next steps should be.
Had it not been for a chance sighting of the fire by a neighbor, my brother-in-law and sister would have perished within the walls of their master bedroom, leaving their three monogrammed princesses asleep and likely trapped upstairs.
"I think your house is on fire," said the neighbor when she called, as her husband called 9-1-1. When my sister opened her bedroom door, the entire living room was orange. She ran upstairs where the girls' room was lit up with orange light from the flames outside their window, calmly waking them. "There is a fire, we need to leave."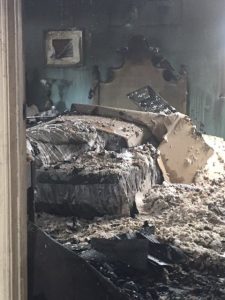 Carrying the baby while walking the older girls down the stairs, there was no time for coats or shoes in the middle of winter. As she approached the front door she paused to disarm the security system out of habit, then remembering the house burning around her, she flung the door wide open as the alarm sounded. The neighbor was motioning, enticing her to move swiftly as if to say, "Come on. come on."
As the family of five exited the burning house, the wheels on my sister's SUV began to explode and another brand new Lexus SUV that was purchased two days prior melted in the driveway. Before too long, the entire master bedroom was consumed. Unbeknownst to my sister, this moment would be the beginning of days of red tape and phone calls to initiate a recovery process that seems endless and offered no instruction manual.
After some time, the neighbor asked my sister, "We don't mind, but would you like a pair of pants?" when my sister realized that she had been walking around in her neighborhood braless in only a strappy little shirt and underwear with a phone on one ear and a baby on the opposite hip.
The fact that a fireman emerged from the house with my sister's wedding ring was an unforeseen blessing since she had lost her original ring while tossing a football in a local river a few years prior.
Once the fire was made public on the local news, the entire community surrounded my family with love by sending gift cards, meals, and purchasing immediate needs. I threw my bags back in the car and drove all night to get to my sister. I asked her if she had cried a lot and she gave the strongest, most beautiful response I could have imagined.
"It's not about what we lost, it's about what we saved."
I couldn't say that the rest of us didn't have our fair share of private tears, first and foremost, seeing the wreckage once we could investigate the wrath of this particular fire. But mainly, because the world we lost in that fire was one where we spent many of our holidays and other family celebrations. It was the setting for a cocoon in which my little sister transformed from a college student to a wife, mother, and a career woman. It was never about one single photo or wedding dress never to be seen or touched ever again.
The event we would forevermore refer to as "the fire" had been no respecter of persons. It didn't know whether my sister was rich or poor, black or white. She emerged wearing only her pajamas into a new life without one material possession, but she showed me a heart that knows what it is to have nothing yet possess everything.
None of us will ever forget the call of the fire. Neither shall we forget the smiles on the girls' faces when we took them to what they now call the "burn house". "Look, I think that's my old bike and over there is your scooter! Cool." My sister has done her job quite well, for even in their young ages, the girls knew they already had all they ever needed.