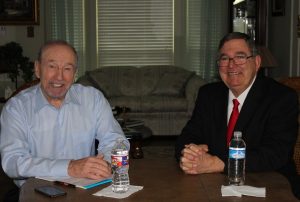 Congressman Michael Burgess (R-TX-26th District), has reintroduced flat tax legislation, i.e., H.R. 40, the Flat Tax Act. Referring to the flat tax as "a simple solution to ensure that all Americans pay their fair share," Dr. Burgess added, "For far too long, our tax system has been one of complexity, confusion, and disenfranchisement. In 2017, President Trump and Republicans in Congress passed the first tax reform package in 30 years. The Tax Cuts and Jobs Act resulted in historic progress; however, a truly equal system would be everyone paying a flat tax of 17 percent," he said.
Before coming over to do this interview, the Congressman hosted the annual Emergency Preparedness Summit at Trophy Club Town Hall.  "Weather in our region is unpredictable and can change in an instant. The Emergency Preparedness Summit is designed to help North Texas families prepare for any emergency they may face," said Dr. Burgess. "Each year, I learn something new from the local and federal leaders who participate in this event." More info on how to prepare for these life-threatening situations can be found at: www.burgess.house.gov/emergencypreparedness
Dr. Burgess has been the recipient of severe criticism from several constituents because of his recent vote in the House in favor of an amendment lowering the federal voting age from 18 to 16. In the video interview below he explains his reasons for the vote, which made him the only Republican to support the amendment, even though, ultimately, it failed.
After spending nearly three decades practicing medicine in North Texas, Dr. Burgess has served the constituents of the 26th District since 2003 in the United States House of Representatives. He currently serves on the prestigious House Energy and Commerce Committee where he is the Chairman of the House Energy and Commerce Subcommittee on Health and sits on the Subcommittee on Oversight and Investigations and the Subcommittee on Digital Commerce and Consumer Protection. In addition, he is a member of the Rules Committee and the Helsinki Commission. For more about Dr. Burgess, click on: www.burgess.house.gov.