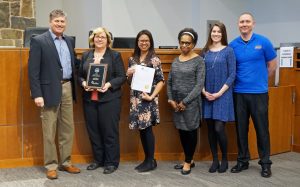 The Flower Mound Public Library has been awarded for its program and service excellence for the 15th straight year, according to a news release from the town of Flower Mound.
The Flower Mound Library, 3030 Broadmoor Lane, recently received the 2018 Texas Achievement of Library Excellence Award, and was recognized at Monday night's Town Council meeting.
Only 51 libraries out of 548 public libraries in Texas, less than 10 percent, achieved this recognition, according to the town. Libraries awarded this honor must meet a high level of excellence in programming and service, contributing to the continued education and personal enrichment of the community.