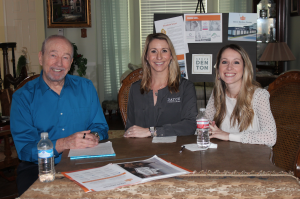 Most of us are aware of many compassionate non-profit organizations that serve residents throughout the county. It's no easy job to reach out to those in need, while struggling to pay the bills in order to keep those essential organizations open. If any of them fail, it will negatively impact the lives of numerous people. Now, a group has formed which offers to bring those vital institutions under one roof, thereby maximizing efforts and donations to further each individual cause. Serve Denton is a 501(c) (3) community-based group that has made significant progress in this effort. I invited Serve Denton Executive Director Carly Kuban and Second Vice Chair Melanie Vest to come over for an interview to tell residents about this valuable service. The following is from www.servedenton.org
"Nonprofits spend countless hours each year raising enough money to fulfill their mission and keep their doors open. What if they no longer had to worry about paying rent and could share utilities with a dozen or so organizations in the same building? Our vision is to develop property projects in Denton, like The Wheeler House and the Serve Denton Center where nonprofits pay significantly lower rent compared to commercial office space and share costs, sending more of the dollars our community gives straight to the people who need it most.
"These projects will also help improve collaboration among nonprofits, show people in our community where they can get involved, expand our community resources, and create opportunities for many people in need to become self-sufficient when they find the help they need all in one place. The Serve Denton Center is one of Serve Denton's nonprofit centers. This 32,500 square foot building on five acres of land can accommodate many nonprofit service providers in one convenient location at an affordable price. When nonprofit agencies are officing together, those in need can access a variety of services in one location instead of searching all around town to find help."
"Denton Mayor Elinor Hughes first proposed the idea of a one-stop human services center in 1976. She formed a commission to study the idea, and they identified several potential properties; however, a lack of funding prevented the idea of moving forward. In 2001, a group of community leaders formed a nonprofit called the Denton Assistance Center, Inc. in the hopes of resurrecting this idea. They raised some funding, but were not able to find a building or the necessary support. Eventually, the organization went dormant.
"In 2011, Denton Bible Church (DBC) sought ways to better use the excess property they owned and returned to the idea of creating a nonprofit office complex. Remaining members of the Denton Assistance Center, Inc. met and agreed to transfer the 501(c)3 to the new group. Pat Smith, Priscilla Sanders and Gary Henderson led this group. They retained the legal name but changed the operating name to Serve Denton.
"A new board of directors was seated February 9, 2012, and Serve Denton began operations. The main campus, Serve Denton Center, is located at 306 N Loop 288 and is expanding significantly. Initially, Serve Denton had a long-term lease agreement with DBC on a 32,000 sf building. When a local school wanted to purchase the building, we negotiated a $1M termination fee to allow Serve Denton to relocate. Through this transaction, the deed to The Wheeler House was also acquired. The $1M allowed Serve Denton to put a down payment on the new building and complete Phase 1 construction. Operations and partner agencies were moved into portable buildings in September 2017 while construction took place."
Serve Denton will have its 7th annual celebration with guest speaker Elizabeth Smart. Elizabeth is a child safety activist who was abducted at the age of 14 from her home in Salt Lake City. The event will take place on Saturday, March 30, 2019, at Embassy Suites by Hilton Denton Convention Center, 3100 Town Center Trail, Denton, Texas. Doors open at 5:30pm and the event begins at 6:30pm. You can purchase tickets at www.serve.givesmart.com and view the extensive list of silent auction items.