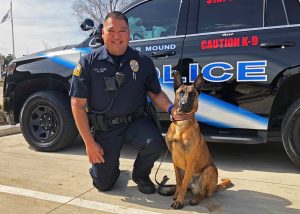 The Flower Mound Police Department announced Tuesday the addition of new K-9 Officer Ares.
Ares is a 2-year-old Belgian Malinois trained to sniff out illegal narcotics, such as marijuana, cocaine, methamphetamine and heroin, according to a FMPD news release. When Ares detects illegal narcotics, his body language changes and breathing will quicken. Once he gets as close as possible to the smell, he will alert his partner, Officer Rodney Adame, by sitting at the source and waiting until he is rewarded with his toy.
During his time off, Ares loves running around with Officer Adame and his family and playing fetch with his favorite toy, a black Kong with a rope tied to it, according to FMPD.