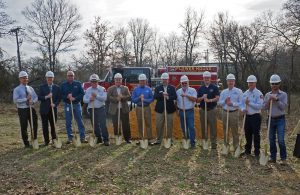 On Friday, the Flower Mound Fire Department and town officials broke ground on Fire Station No. 7, which will provide emergency service to southern and western sections of Flower Mound.
Last month, the Flower Mound Town Council approved a $4.5 million construction agreement with Schmoldt Construction for Fire Station 7, located at the northwest intersection of Skillern Road and Wichita Trail, just north of the Coram Deo Academy campus. Fire Chief Eric Greaser has stated that the station – which will include a paramedic unit, a special operations unit and a safe room designed to withstand wind speeds up to 250 mph – is needed to lower response times in western and southern sections of Flower Mound, such as Point Noble and the newer residential subdivisions.
The future station will be located at 2777 Skillern Road, and the 9,300 square-foot facility is expected to open in spring 2020, according to FMFD.