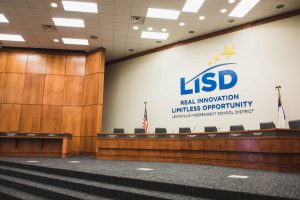 Lewisville ISD's inaugural HBCU (Historically Black Colleges and Universities) College Fair is set for Friday morning at Marcus High School 9th Grade Campus.
More than 200 juniors and seniors from around the district plan to attend, according to the district. LISD will provide transportation.
More than 20 schools scheduled for the event will be recruiting students and offering scholarships. Microsoft and Denton County Chapter of The Links, Inc. will also have representatives in attendance, according to a LISD news release.
"The HBCU College Fair is an excellent opportunity for our students," LISD Assistant Chief of Schools Andy Plunkett said. "Lewisville ISD graduates are highly sought out by universities and colleges all over the nation. We have a wonderful reputation of producing top-notch students who perform extremely well at that level."
The keynote speaker will be Chelle Luper Wilson, who is International Secretary of Alpha Kappa Alpha Sorority, Inc. The morning will also feature a recent graduate panel discussing campus life, Greek life, student organizations and alumni experiences.
Partners for the HBCU College Fair include the Marcus High School Black History Club and Tau Rho Omega Chapter of Alpha Kappa Sorority, Inc.
LISD HBCU College Fair Schools
Alcorn State University
Dillard University
Florida A&M University
Grambling State University
Hampton University
Howard University
Jackson State University
Jarvis Christian College
Langston University
Morehouse College
North Carolina A&T State University
North Carolina Central University
Paul Quinn College
Philander Smith College
Prairie View A&M University
Spelman College
South Carolina State University
Southern University
Tennessee State University
Texas College
Texas Southern University
University of Arkansas Pine Bluff
Wiley College