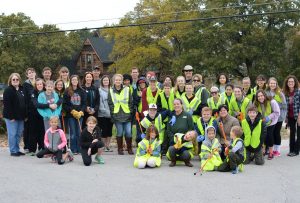 After more than a decade making a difference in the local community, Keep Argyle Beautiful (KAB) is inviting residents to get involved.
The organization held a first-ever Information Night on Jan. 14 to give interested residents more details about its mission and early beginnings. Founding members– Bonnie Haynes, Nicole Hackett and Shelli Stone– discussed how they saw the need for more conservation awareness events and preservation of the local environment more than a decade ago.
"I think the key to keeping Argyle beautiful is your volunteer group," Stone said during the event, discussing how important it was– and is– for local residents to get involved.
KAB aims to preserve and enhance the local natural environment through educational and motivational programs, as listed on its website.
The Board members are KAB volunteers who like to work with other citizens and groups on projects, such as clean-up days, recycling day, helping the Hilltop Elementary Garden, helping with the Graham -Argyle Cemetery clean-up, sponsoring the Christmas Tree Lighting Festival and more.
The group also engages and educates citizens to promote increased public interest and responsibility in the maintenance of a clean, healthy, beautiful environment and work with the community to reduce and prevent pollution.
KAB's next meeting is on Monday, Feb. 11 at 6 p.m. at the Argyle Fire Station, 511 Gibbons Road South. Click here for more information.