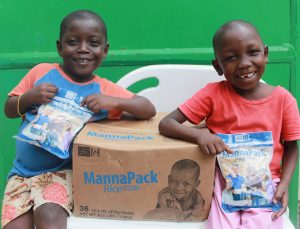 Argyle United Methodist Church is putting on a Pack with Love event this weekend in an effort to pack 100,000 meals for hungry children around the world.
After huge interest from the Argyle community, the church doubled its original goal for the event on Friday and Saturday at the Argyle Fire Station, 511 Gibbons Road South. The event is hosted and sponsored by Argyle UMC and Feed My Starving Children, a ministry where anyone 5 and older can help package nutritious MannaPack meals specifically designed to help underfed people.
The organizations invited the community to come help pack the meals, and nearly all shifts are full as of Tuesday, but they are still accepting donations. For more information, click here.