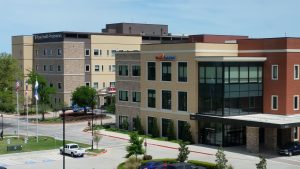 William, Evelyn, and Emma were the most popular boy/girl names for babies born in Flower Mound in 2018.
The only hospital in the town, Texas Health Presbyterian Hospital – Flower Mound, provided town staff with some 2018 birth statistics. There were 1,797 babies born in Flower Mound, comprised of 856 girls, 951 boys and 28 sets of twins, according to a town news release.
The top most popular boys' names last year were:
William (11)
Benjamin (10)
Jack/Jacob (9)
The top most popular girls' names were:
Evelyn/Emma (9)
Olivia/Ella/Isabella (8)
Elizabeth/Emily/Charlotte/Ava/Amelia (7)
October was the busiest month at the hospital with 173 births, followed by June with 166. February was the slowest month with 118 babies born, followed by December with 137. Three were born on New Year's Day, six on Valentine's Day, five on St. Patrick's Day, two on Fourth of July, 11 on Halloween, two on Thanksgiving, six on Christmas Eve and two on Christmas.