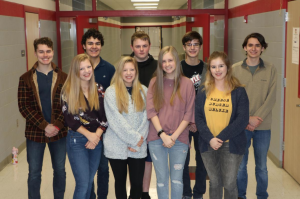 Ten Argyle High School Band members have been selected to the All-State Band.
After 28 AHS Band members auditioned for the ATSSB All-State Band, 10 were selected to the All-State Band, according to an Argyle ISD news release. The students are Timothy Davis, Karter Hennigan, Audry Livingston, Chloe Livingston, Cole McCue, Collin Nielsen, Preston Rushford, Walker Santone, Hailey Schnabel, Micah Splain and Zachary Tait.
Another AHS student, Cole McCue made the All-State Jazz Band in the fall, bringing the total number of All-State musicians from AHS to 11, the highest number since 2008, according to the district.
Less than 1 percent of the Texas students who audition for a spot in the All-State ensemble were selected, according to the district. The students will represent Argyle ISD and North Texas at the All-Sate Clinic and Concert in San Antonio, Feb. 13-16.