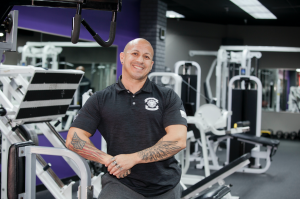 Ah, yes. The proverbial annual New Year's resolution: "I'm going to lose weight;" or "I'm going to get in better shape;" or "I'm going to eat better and take care of myself this year."
Right. Then, 365-days later … you guessed it; same resolution, again.
Here's a hint for you for the new year– unless you have a will-of-iron or are a professional physical trainer/motivator/nutritionist– let someone who knows how to change the image in your mirror take charge.
"I treat personal training like a profession," said Jesse James Leyva, owner of Jesse James Fit. "I take my clients' goals and results extremely serious. From a whole food/organic nutritional regimen, structured training routines, motivation, weekly goals, long-term goals, to weekly accountability– we do it all. You have to; in order to get the desired results for your clients."
Leyva's approach to whole-person health is one of the reasons his facility and programs have been voted "Best of Denton County" for seven consecutive years.
"I love the fact that every day I step through our studio doors, I'm a part of changing someone's life for the best," he said. "I feel fortunate enough to be able to give to people my passion and love for a healthy lifestyle."
He opened his nearly 8,000-square-feet state-of-the-art Flower Mound facility at 1001 Cross Timbers Road in 2007; and, now there are satellite facilities– featuring his signature indoor boot camps, Outlaw FIT– in Little Elm, Hickory Creek and McKinney.
FIT Camp stands for: F– for functional, full-body movements; I– for interval, energy bursts; and, T– for training staff of professionals.
Growing up the son of a single mom, Leyva was "one of those 'small guys on the beach' kid," with the added issue of Tourette's Syndrome– his personal tic-symptom is to clear his throat constantly– which meant he didn't have an easy-go-of-it as a youth.
"Yeah, I was kind of lost," he said. "We moved to Flower Mound when I was 19 and I started with body building, then learned about diet and eating right. But, more importantly, I found my passion is all about helping people. Now, I am more about life-coaching."
His attention to clients extends to families as well.
"I'd noticed over the years that one of the unintentional results for couples, when only one person becomes involved with fitness or more health-conscious, is more divorces," he said. "So, three-years-ago we started not charging extra for a spouse and now we have 65- to 70-couples we work with here."
In addition to his couples training programs, Jesse James Fit also has youth and senior programs.
"We have trainers for families," he said. "First, you start changing parents, then the kids. They are what they are fed– fat gets fat, hate become haters and racists get racists. If you have healthy parents, you have healthy kids. It's a win-win."
Leyva also regards his trainers as extended family; some have been with him for more than a decade. Having a consistent professional staff means clients develop an increased level of confidence with a trainer.
"I pride myself on my teams," said Leyva. "We offer tiered-salary levels, as well as offer them health insurance."
To help people make a decision on where to go to improve their health, Leyva encourages people to tour various facilities to make comparisons.
"We offer tours, listen to a person's goals and offer programs for free trials," he said. "Remember, you get what you pay for and we can make it fit."
For more information, visit: jessejamesfit.com, or call 972-355-2639.