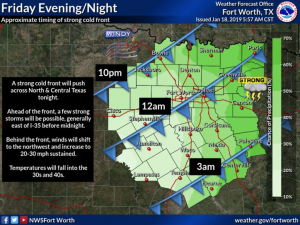 A cold front is forecast to pass through Denton County, and the rest of North Texas, late Friday night, bringing a lot of wind to the area on Saturday.
According to the National Weather Service forecast, the strong cold front should reach Denton County around 11 p.m. or midnight, and ahead of the front, a few strong storms will be possible. Behind the front, sustained winds will increase to 20-30 mph, and temperatures will fall into the 30s and 40s.
A Wind Advisory will be in effect from midnight to 6 p.m. Saturday, with wind gusts of 35 mph and more are forecast. There is a low chance for some light rain or possibly light snow during the morning hours. No accumulations are expected in North Texas. High temperatures are forecast to stay in the low 40s Saturday.