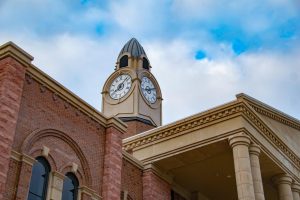 Roanoke city staff is moving into its new City Hall next week.
Beginning Tuesday, Roanoke city staff will be working from the new City Hall, located at 500 South Oak St., just down the street from the old City Hall, according to a news release from the city of Roanoke.
The new $13 million facility will house City Administration, Finance Administration, Marketing, Human Resources, Utility Billing, Development Services, Building Inspections and Code Enforcement. City office hours and phone numbers will remain the same.
The 30,000-square-foot two-story building was needed to put all city services under one roof, according to a NBC5 report. The number of staff members for the growing city had outgrown the old location.
The city will host a Dedication Ceremony for the new City Hall on a date yet to be announced, according to the city. The ceremony will be open to the public, and public tours will be offered.