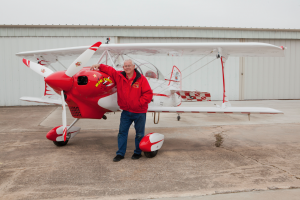 By Henry Wall, Contributing Writer
There have been many father/son legacies over the years. Dale Earnhardt, George Bush, Archie Manning and Waylon Jennings are just a few men whose sons went on to continue their craft; following their passions and forging names for themselves along the way.
North Texas is home to another legacy: a son proudly carrying on his father's vision and passion.
It all started in the early 1950s, when a blue-collar, sheet metal worker in Corpus Christi, Texas, named George W. Meyer, had a vision to design, engineer and build a one-of-a-kind, single-seat bi-plane. He named it, "Little Toot," from his love of the classic 1948 animated story by Walt Disney. Meyer's love for flying and fabrication was a perfect combination to fulfill this lifelong dream.
After many years of grueling hours and extreme dedication, Meyer's masterpiece was completed in 1957 and test pilot, Pauline Glasson, was the first person ever to take flight in this beauty.
That year, Little Toot was presented to the Experimental Aircraft Association (EAA) in Milwaukee, Wisconsin, winning the Mechanics Illustrated Trophy. It was presented to Meyer by the late Paul Poberezny, an American aviator, entrepreneur and aircraft designer who founded the EAA in 1953 and spent the greater part of his life promoting homebuilt aircraft.
Meyer always envisioned having Little Toot's plans drafted– along with its parts list– so that Little Toot could be replicated across America. This is when Meyer's son, Tommy Meyer of Double Oak, stepped in at a young age to carry on his father's wishes.
The younger Meyer obviously didn't have the skills or knowledge in aviation his dad possessed. However, he truly wanted to bring his father's dream to fruition. He loved and admired his father dearly and decided to devote his life to carry-on his father's legacy. The younger Meyer started taking as many drafting and engineering courses available in junior-high through high school.
In the summer of 1962, Meyer finally had the skill set to undertake the task of drawing the plans for Little Toot. After completing the draft– and the thumbprint– the plans to build the amazing aircraft were ready for disbursement. Today, there are more than 50 Little Toots across the country.
Meyer moved to the Dallas/Ft.Worth Metroplex and started a 26-year career as an Engineering Offshore Oil Producing Rig Draftsman for Exxon/Mobil.
He continued to educate himself in aviation, while marrying his loving wife, JoAn, plus raising two beautiful children, Sandy and Kerry.
Meyer spent his spare time refurbishing his father's prototype and built a replica of Little Toot for himself, winning the Paul H. Poberezny Founder's EAA Craftsmanship Award in 1999 and 2000.
The elder Meyer had one last wish he divulged to his son prior to his passing in 1982. He confided to his son that he envisioned a slightly larger version of Little Toot; to be built someday that would accommodate two passengers.
After his father's death, he drew the plans for the larger plane that he named, "Big Toot." It was given his father's EAA number of 64, which his son honors and cherishes. The task of building the plane was monumental.
In 2004, thanks to the drive and commitment handed-down by his father, Meyer was ready. He had acquired the years of experience and knowledge necessary to finally make his dad proud and fabricate Big Toot.
Meyer's dear friend and sidekick, Bob Borger (a retired Geophysicist for Exxon/Mobil), was ready and willing to take on the challenge, alongside his buddy, to help him achieve this aspiring goal.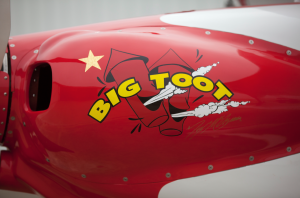 However, there were challenges along the way. For example, the propeller weight for the original version was 75-pounds; much too heavy for the larger plane. This issue cost a tremendous amount of money and time. Thankfully, Meyer and Borger were able to locate a re-engineered propeller with a much lower weight of 24-pounds in California called Cato that worked to perfection.
Meyer overcame all obstacles and is so grateful for the support of friends and family, as well as their contribution to the entire build of the plane.
His sister, Joy, designed the fairings [covers for gaps and spaces between parts of an aircraft to reduce form drag], Borger ran all electrical components and his friend, Bob Corder, completed the radio installation.
Joe Flood, his six-foot-four-inch, test pilot– who is like a son to Meyer– was instrumental in so many ways for the completion of Big Toot in June 2018. His test flying ability far exceeded Meyer's expectations.
Big Toot now has nine flight hours. It needs 31-hours more to complete Phases one and two testing.
The plane has a top speed of more than 200-mph and rated a 10 positive G-force.
Big Toot is currently being made-ready to fly 900-miles to the largest air show convention in the world, called Air-Venture Oshkosh in Wisconsin.
There, Flood will exhibit Big Toot in fly-bys and exhibitions at this premier event. Many people feel these planes are the world's greatest sport bi-planes ever made. There's no disagreement with that assessment, once the eye catches a glimpse of these works-of-art on the ground or gliding through the air on a bright sunny day.
This father/son relationship story is truly special. Meyer spent most of his life fulfilling his father's legacy – a truly inspiring labor of love. There's no question George is looking down from heaven saying– with a smile the size of Texas and a tear in his eye, "well done my son, I couldn't be prouder."