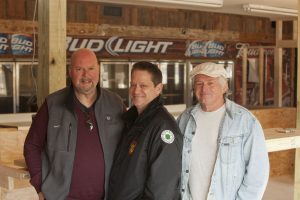 The "new" Bartonville Store is set to open in the first quarter of 2019 at the intersection of Jeter and McMakin Roads– near the exact spot the original store was built in 1882.
"Before the store closed in 2013, I would often go there for lunch, usually getting a baloney sandwich, bag of Fritos and a diet Coke," said the new store owner, Tim House, a longtime area resident and semi-retired real estate businessman. "James Price, the owner at that time, was always a good source for the latest in local happenings. The store was more than just a place that sold a variety of items; it was the social gathering place for the town residents."
When Bentley B. Barton– and his brother, James– bought more than 220-acres of good southern Denton County farm land, including a natural water spring, the vision was for the spot to become the center of the newly-founded Town of Bartonville.
It was located about halfway between Denton Creek and Hickory Creek, as well as situated close to where the old dirt road from Lewisville to Justin met the better-traveled road from Grapevine to Denton– a natural gathering spot.
The store traded hands several times, burned down around 1944, was rebuilt and continued to operate until February 2013, when James Price sold it to the town.  It then was closed and later put up for public auction, when House was the successful bidder.
"My purchase was really more one of passion than it was a lucrative business deal," said House. "I wanted to restore that feeling of a local community center. It's been amazing to me how many area residents have nostalgic stories to tell about their visits to the store; some from when they were kids and would get a cold bottle of Dr. Pepper on a hot summer day, as well as others who would gather for morning coffee during the cold of winter."
It turned into an actual business plan when House was introduced to nearby neighbor, Michael Scott, at a local Bartonville event. What started as a casual "nice-to-meet-you" conversation, soon sparked into an excited partnership; based on the common goal to use the Bartonville Store as a physical symbol of the town's motto to preserve history and plan for the future.
House's passion to restore, but re-imagine the future for the Bartonville Store, met Corporate and Executive Chef Scott's 40-years of culinary success and a plan was quickly created.
Scott's credentials include CEC (Certified Executive Chef), AAC (American Academy of Chefs) and membership in the World Master Chefs Society.  He has been named Chef of the Year four times in the DFW area; and, once in all of Texas.
The new Bartonville Store won't be offering baloney sandwiches– unless it's made from Wagyu Beef. Instead, it will be a restaurant with a full bar at the back, a deli with whole meal-replacement carry-outs and a wide variety of locally-baked artisan breads and cheeses, such as selections from Flower Mound's Latte Da Dairy's goat cheeses.
For Scott, the highlight will be Jeter's Meat Market, "a grass-fed, grain-finish Prime meat butcher shop," featuring Texas-raised Wagyu Beef from the Rosewood Ranches' own herd, where Scott is the Corporate Executive Chef and sales manager.
It will also offer high-quality meats– such as pork and chicken– from other local ranches; not the typical Choice-level meat found in grocery stores. In addition, there will be a chalkboard highlighting the features for the day, the week and the month.
"I started working in the restaurant business as a dishwasher when I was 14 and was all set to quit after my first sink full of dirty dishes, but the chef told me to stick with it," said Scott, a native Californian.
"I worked in a lot of restaurants in Sausalito [the famous houseboat community across the bay from San Francisco], including Zach's, Flynn Landing, Houlihan's and The Charthouse. I went from washing dishes, to preparing salads and worked my way up to steaks. My big break was at Teppan Taiko Japanese Restaurant training under Master Chef Shoji Yano in Tokyo."
When Scott returned to the States, he spent 10-years in various restaurants, finally reaching the level of General Manager and Executive Chef of Los Robles Lodge in Santa Ana.
He moved to Texas in 1996 and became the Executive Chef at Lakewood Country Club, then the Corporate Chef at Yama Beef in 2004, where he trained other chefs and sold Wagyu Beef, before he was named Executive Chef at the Northwood Club in Dallas.
"I'm really excited to offer not only Prime meats, but we also plan to have cooking classes and wine/beer dinners, as well as offering membership to a Meat Lover's Club," said Scott. "Our actual chef is Jeff Harper, who's been training for a year at The Meat Shop on Lover's Lane in Dallas."
Overseeing the daily operation is General Manager Chip Woods.
"There will also be a patio area for people and a 'Doggie Corner' for the four-footed fur-kids," he said. "We also will eventually feature a Farmer's Market outside and sponsor community events and celebrations. And, even though we won't have white tablecloths, our staff will be at the same level found in any fine dining establishment.
House was also excited to point to a raised floor area at the far end of the bar area.
"We'll feature a variety of live music acts, with some of the best that Texas has to offer," he said. "That will include acts from Austin, as well as the immense assortment of talent found in Denton, including those from the world-renown jazz program at UNT."
The Bartonville Store is set to embody the popular song, "Everything Old Is New Again," from the movie, "All That Jazz." The leadership team has all the right moves covered.