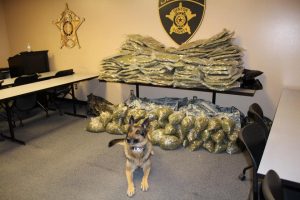 A routine traffic stop on I-35 resulted in two arrests for the possession of 175 pounds of marijuana, according to the Denton County Sheriff's Office.
DCSO deputies conducted the traffic stop at 2:17 a.m. Sunday just south of the I-35 split in Denton, according to a DCSO news release. The vehicle was a rental, a Ford Explorer with Wisconsin license plates.
The two men in the vehicle gave conflicting and deceptive stories to law enforcement, according to the sheriff's office, so a DCSO K9 was requested. After the K9 arrived, it indicated a positive alert for possible narcotics in the vehicle. Deputies searched it and found 175.04 pounds of marijuana inside four large duffel bags.
The vehicle was impounded and the marijuana placed into evidence, according to the DCSO. The suspects — Juan Colin and Sergio Mendez, both 28 years old from Las Vegas — were booked into Denton County Jail on one charge each of possession of marijuana between 50-2,000 pounds, a third-degree felony, according to jail records. They remained in jail Monday in lieu of $50,000 bail.