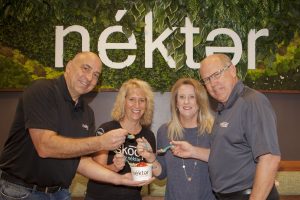 With 2019 in its early days, many southern Denton County residents are looking for ways to improve their health as part of their annual New Year's resolutions.
Finding something tasty and nutritious, while avoiding fast food, are among the goals. Two new businesses with fresh concepts opened recently in Flower Mound and are doing their best to support healthy resolutions.
On the north side of town is Nekter Juice Bar, located at 5810 Long Prairie Road, Suite #80, in the former Sears store near the intersection with Dixon Road.
The Nekter franchise launched in late-September and is owned by long-time Flower Mound neighbors, friends and bible study partners Brad and Kristi George and Jay and Kathy Robertson.
Nekter was founded in 2010 with now more than 100 locations. Its headquarters are in Santa Ana, California.
Since the George's and Robertson's have lived in Flower Mound's Bridlewood neighborhood for many years, they have strong connection to the community and hope to find ways to give back while helping their friends, neighbors and others become healthier. Interestingly, students from nearby Marcus High School are among their best customers.
Nekter focuses on the juicing phenomenon where combinations of fruits and vegetables are blended together with other healthy items to form non-dairy cold-pressed juices, smoothies, acai bowls and frozen treats. Menu items are available at: nekterjuicebar.com.  Call them at 972-874-1665.
On the south side of town is Rush Bowls at 2400 Lakeside Parkway, #160 in The Shops at Lakeside DFW. At the beginning of September, Keller residents Mike and April Fuchs introduced the community to the Colorado-based chain.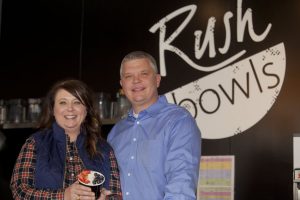 Rush Bowls concentrates on the meal-in-a-bowl concept, including enough carbohydrates and protein to satisfy any daily need. Customers can choose between 40 different options of smoothies or smoothie bowls, each made with fruit and vegetable bases like acai, kale and avocado and topped with organic granola and honey. All of these can be made to suit vegan, gluten-free, soy-free and dairy free diets. See the menu at www.rushbowls.com. Call them at 214-285-9497.
The goal of both franchises is teaching people alternative ways of reaching good health.
Nekter tries to keep its menu simple, with choices in three categories; fresh-pressed primarily vegetable-based juices; fruit-based smoothies; and, acai or dragon-fruit based bowls, with about half-a-dozen versions of each.
"The amount of servings of vegetables you are getting in these is outrageous," said George. "You couldn't eat the [same] number of vegetables in a day."
Nekter also features cleanses of one-to-five days, which include a group of six bottles of liquids that replace meals for each day. One is a celery detox, another is turmeric lemonade to help with inflammation, followed by classic greens, charcoal lemonade to rid the body of toxins, healing green and protein– all in liquid form.
"A lot of it is healthy lifestyle and preventative measures," said Robertson. "A lot of people are coming in because they know the health benefits of it [juicing] to help fight the free radicals; and, the antioxidants that you get from this put you on more of a good track, instead of veering onto an unhealthy track."
"We're trying to be a little more mainstream," said Fuchs about Rush Bowls.  "We're focused on meal replacement. Our goal is try to get this where our core customers are here several times-a-week and we can address several dietary needs as well. We have different kinds of milk or can make it vegan."
Both establishments pride themselves on using natural ingredients made fresh each day. Also, they rotate their menus to offer different items at different times of the year.
Rush Bowls just launched its own hand-crafted popsicles made of the same healthy ingredients as their bowls.
Nekter makes its own cashew milk and coconut water, while Rush Bowls its peanut butter and jellies.
The Robertson's first discovered juicing, when someone they knew– while working at Starbucks– recommended it to help address some health issues Jay was facing. The couple initially bought a juicer for their home, then researched area juice bars, discovered the acai bowls and figured they could do it.
They then convinced the George's into joining them, though Brad was quite skeptical at first.
"My initial response was 'that's the craziest thing I've ever heard,' " Brad said. "I said 'you're nuts.' But, he convinced me and we checked out Nekter after looking at all the juice places.
"I'm a burgers and brats guy and I thought I'd never drink green juices or anything like that. After going to Nekter– and doing the flush– I love it."
After doing a two-day cleanse, George lost his sweet tooth.
"It's just an overall healthy lifestyle," he said. "By working here and switching just one meal-a-day, I was able to lose 16-pounds."
With Mike Fuchs being in the food business for the past 20 years, something he and April could own in that industry was a natural. They were attracted to Rush Bowls which started in Boulder, Colorado, in 2002, and didn't start franchising until 2015. The Flower Mound location is just the eighth franchise in the nation.
Rush Bowls draws heavily from the ever-growing Lakeside community and, like Nekter, is looking to expand. In fact, the Fuchs opened a second location Jan. 1 in Keller while the George's and Robertson's are looking at other locations in Denton County. Rush Bowls also will begin catering this year.
So, if eating healthier is on your agenda this year, there now are two new places ready to offer their unique options to help you reach your health goal.