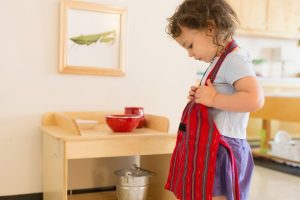 It took a unique job for Brandi Hunter to return to the United States, after living and enjoying her work in South Africa for the past 12-years.
When Guidepost Montessori decided to take over a similar school in Flower Mound, Hunter jumped at the offer to become its first head of school. Along with Assistant Head of School Libby Rubin, they have been overseeing a growing facility that opened this past March.
"Guidepost has a clear mission, 'to professionalize and raise the quality in early childhood education,'" Hunter said. "The opportunity was well-worth the international move, because– as a Montessori mom myself and educator– I really believe in what they are going to achieve in early childhood education.
"Also, Guidepost provides an opportunity to be part of a community. Not only are we providing these high-quality educational experiences, but we also really want to capture that family connection: to provide our families with opportunities to have relationships with one another; and, really feel like they are part of a community."
Guidepost is not a daycare, but a school which focuses on each child's individual needs. It follows what founder Maria Montessori started more than 100-years-ago in Rome; studying how each child learns and understands things and developing the best way to allow them to reach their goals through hands-on, open space, individualized learning.
"We have the highest-quality materials for the child's success and helping with independence," Rubin said. "They are touching geography, language and reading. It's amazing to see children count to a thousand at the age of four or five. We're getting to see the children building their independence and confidence in themselves with the materials Guidepost provides and invests in the children."
The Flower Mound school, one of 26 facilities nationwide, has 23 overall staff, currently educates about 75 students, split into three multi-age levels – Nido (Italian for nest) for ages six-weeks to 18-months; Toddler (18-months to three-years-old); and, Children's House (ages three to six).
Anyone wanting to know how their child can be part of Guidepost are invited to an open house this Saturday, Jan. 12 from 8:30 to 10:30 a.m. with registration fees waved in January.
For more information call Libby Rubin at 972-954-3350, or visit: guidepostmontessori.com/flower-mound.