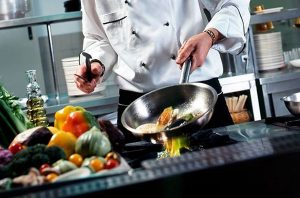 The community is invited to the fourth annual Elite Chef competition later this month at the Flower Mound Senior Center, 2701 West Windsor Drive.
SIM Auxiliary — a nonprofit that supports the local senior community — and Flower Mound Seniors in Motion is hosting the event at 6 p.m. on Jan. 31, according to a news release. Reigning champ icare Rehab will be vying for its third-straight win, challenged by three Flower Mound restaurants: Local Pint, Costa Vida and Prime Table Farm to Market.
The four chefs will compete by demonstrating and preparing their best dishes, and audience members will vote on their favorite dish. The winner will capture the Elite Chef 2019 trophy.
Appetizers will be prepared by Avanti Senior Living and dessert will be provided by Cross Timbers Rehab and Autumn Leaves of Flower Mound. Live music will be performed by "Then and Now."
Tickets are $20 per person and can be purchased at the Flower Mound Senior Center or by phone at 972-874-6110. A ticket gets you appetizers, four tasting dishes, desserts and beverages.