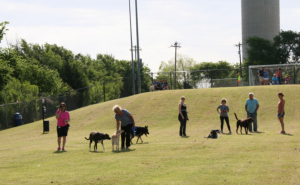 The Highland Village City Council approved a resolution this week to name the dog park at Unity Park.
The dog park is now named K-9 Kastle for its proximity to the Kids Kastle play area at Unity Park, 2200 Briarhill Blvd. The dog park opened in April 2017 and had been referred to simply as "The Dog Park at Unity Park," according to a news release from the city of Highland Village.
City staff worked with the Parks and Recreation Advisory Board for name suggestions and the Board decided on Kanine Kastle, but City Council requested the name be K-9 Kastle.