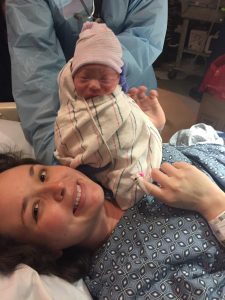 Texas Health Flower Mound's first baby of the new year was born less than an hour-and-a-half into 2019.
Greyson Wolf — a 4 pound, 1 ounce baby boy, was born to parents Kaitlyn and Chase Wolf at 1:21 a.m. on Jan. 1. Certified Nurse Midwife Kathy Ellis delivered Flower Mound's Baby New Year.
"Every day having a baby is cause for celebration and having the first baby of the year adds even more excitement to the joyous occasion. What a great way to start out the New Year," said Jennifer Yates, RNC-OB Director of Women's Services.
Approximately 1,800 babies were delivered at Texas Health Flower Mound in 2018.
Besides taking home their bundle of joy, the Wolfs will also take home a special gift basket for the first baby. It includes a Medela Breast Pump, stuffed animals, clothing items, a photo album and frame, a blanket, toys, diapers and personal care items.