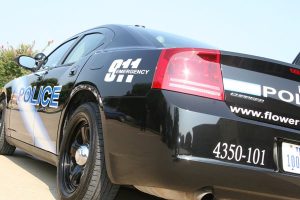 A burglary suspect fled Dallas police and crashed his vehicle in Flower Mound before he was taken into custody on Tuesday, according to police.
Between 5-6 a.m. Tuesday, a north Dallas resident saw that a door on his vehicle was open in the 6400 block of Waggoner Drive, according to Dallas Police Department spokesman Carlos Almeida. The victim looked inside and realized some of his property was missing, including something that could be tracked electronically, and he notified police.
Police found and followed the suspect's vehicle and tried to pull him over, but the suspect fled into Flower Mound, and Dallas police stopped the pursuit, according to Almeida. The suspect eventually crashed in front of Market Street, 3800 Long Prairie Road, according to Almeida and FMPD spokesman Capt. Shane Jennings.
Jennings said the suspect fled on foot and was apprehended near the townhomes behind The River Walk.