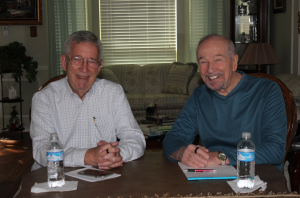 There are many people in the various communities throughout Denton County that donate their time and talent to help make it a better place to live and work. We often hear people talking negatively about the condition of the country, the state, or the town in which they reside. But, how many of them do more than simply complain? It's been said many times that there wouldn't be enough money in a municipality's budget to pay for all the work done by volunteers. Yet, without the involvement of those selfless individuals we couldn't function as efficiently and enjoy the benefits they provide freely. Richard Steenson is just one of several community-minded people who are not afraid to "get involved."
If you've been to some political and social events around the area you're very likely to know Richard. In addition, as past President of the Flower Mound Area Republican Club (www.fmarc.us), Richard is the guy who continues to greet guests with a friendly smile and an outstretched hand at the monthly meetings, held at Bridlewood Golf Club in Flower Mound. The meetings are not only informative, with special guests keeping county residents up to date on local elections, tax rates, infrastructure improvements, etc., but, there's always a sumptuous dinner and drinks available at a reasonable price.
Richard also is a longtime member of the Summit Club, a service organization comprised of community leaders and hard working men dedicated to serving others.  Formed in 1974 as a non-political fraternal service organization, the Summit Club (www.summitclub.org) supports many charities and organizations serving the Flower Mound community.
Mr. Steenson describes his political biography as, "passionate Reagan – Cruz – early Goldwater conservative, influenced early in life by parents, Masters of Deceit (J. Edgar Hoover), The Naked Communist (W. Cleon Skousen), and the U.S. Constitution (especially through the first ten amendments), with a lifetime of influence and leadership within the Republican Party." With an impressive record in Republican politics that is too lengthy to describe here, I'll just mention a few. Richard was a Precinct Chair in Dallas from 1981 – 1986; Pct. Chair in Richardson – 1988 – 2005; Richardson/Richland College Area Chairman, House District 112 Pct. Coordinator; Pct. Chair-Flower Mound, 2008 – present; Flower Mound Area Leader, 2008 – present; Victory Chairman and First Vice Chairman, Political Affairs – 2010 – 2014; President's Council – 2011 – 13, 2018, President 2012 – 13; and Victory Chairman 2016 – 2018.
According to Richard, another significant part of his life that is not on the resume is UNT football and basketball. "Moving back to Denton County at the end of 2005 (we moved New Year's weekend from Richardson to Flower Mound) gave me the chance to become a season-ticket supporter of UNT athletics – especially football and basketball. That accounts for a huge chunk of my social time, including some trips to out of town football games, including bowl games. We had been season ticket holders for both Cowboys and Mavericks, but like college athletics a lot more."
During the interview I asked Richard his opinion on the fractious political climate in the country today. He also talks about ways for people to take a role in helping to improve their towns and cities in the county. He also mentions his past experience as a presidential motorcade driver.