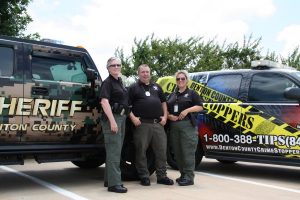 The Denton County Sheriff's Office is seeking the public's help identifying suspects responsible for a "horrific" crime against two dogs near Justin.
Late Friday night, severe storms moved through the area and frightened two dogs, who ran from their yard in Justin. The owners searched for them for hours, but couldn't find them, according to a DCSO news release.
The dogs, a 7-year-old golden retriever named JC and a 2-year-old lab mix named Nessa, were eventually found dead on Indian Trails Drive, just west of Justin. They had been shot, and their bodies mutilated by the unknown suspects.
A witness told authorities that a pickup, possibly black, occupied by three males were seen in the area about 1:30 a.m. Sunday, and the DCSO wants to identify and question them. All subjects are described as 25-30 years old. One is a black man who is bald or has very short hair, and the other two are described as white heavyset men, one with long blond hair and the other with long black hair and a beard.
Anyone with information about the incident or the subjects is urged to contact Denton County Crime Stoppers at 800-388-8477. If your tip leads to an arrest, you could be eligible for a cash reward of up to $1,000.