By Larry Varnes, Vice President, Resident Director, Robson Ranch HOA
Winter just started, but we are already starting to pine for spring. If you are a golfer, spring is the time you want your game to be finely tuned to start the season off on a high note. Why not take advantage of one of North Texas' hidden golf secrets? Wildhorse Golf Club at Robson Ranch is home to two (not one, but two) of North Texas' top teaching professionals and their respective golf schools and academies.
Dave Bowles is a full-time Golf Academy of America Teaching Professional. He heads the Dave Bowles Golf Schools. Dave has given more than 6,000 individual lessons ranging from sessions for true beginners to the more experienced player. Dave tailors his golf lessons to each individual in an effort to help his students improve their short games, iron play, driver accuracy and on-course management! Dave would like to encourage you to "Stop Thinking" and "Start Playing". If you are new to the game, considering returning to the game, or just honing your skills, Dave could easily be your solution.
Catch one of Dave's lessons @davebowlesgolfschool on Facebook, Instagram, YouTube and Twitter. Dave is also a TaylorMade Golf Company fitting professional.
The Lone Star Golf Academy arrived at the Wildhorse Golf Club in January of 2013. The academy is headed up by Tyler Clark, who also happens to be Callaway Golf custom club fitter. His life passion is teaching golf. As a Veteran of Operation Iraqi Freedom and Operation Enduring Freedom in Afghanistan, Tyler also has a special soft spot in his heart for our Veterans at all golfing levels.
Tyler is a Top 100 Golf Academy of America graduate and PGA of America Associate Professional. He has dedicated his career to serving and growing the game of golf. In five short years, Tyler has given more than 5,000 lessons to golfers of all levels. Tyler's junior golfers have been awarded numerous college scholarships; the most recent to Will Gilster – Argyle HS (2018 Top NAIA Texas Wesleyan). Tyler has a commitment to excellence and is passionate about growing the game and exposing as many junior golfers to the life lessons learned through playing golf. You can find out more about the Lone Star Golf Academy and Tyler at facebook.com/lonestargolfacademy.
With State of the Art teaching and practice facilities, why not call Wildhorse Golf Club your home for instruction? Both Dave and Tyler have openings and offer programs such as: Junior Clinics, Beginner Clinics, Individual Lessons, Group Lessons, On-Course Playing Lessons and Swing Video Analysis.
As an added incentive you'll be on one of North Texas' premier golf courses. Might as well book a tee time to put those instructions to work.
We hope to see you soon at the Ranch!
The Future of Power Generation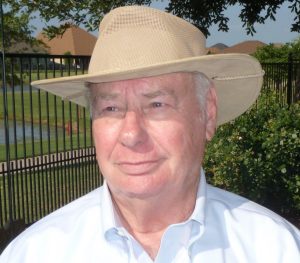 By Don Duff
Since not a lot is going at the Denton City Council this month that would be of interest to Robson Ranch, I am going to give my ideas on electric power in Texas. Of course, Robson Ranch does not receive its electric power from Denton Municipal Electric (DME) but the health of Denton's electrical power is important.
DME is well on its way to 100% renewable power by 2020. Wind power is already online and purchases of additional wind and solar are being negotiated.
This year the Denton Energy Center (DEC) came on line. DEC is 12 huge 18-cylinder natural gas engines capable of producing 220 MW of electricity.   So if DME is 100% renewables, why would we need natural gas engines? The wind does not always blow and the sun does not always shine bright. Storage technology has not been developed yet. DEC will be used for peak times, especially during hot summers. DEC is unique because it can be online in less than 5 minutes. When the Texas grid runs short on electricity; the cost of electricity spikes to as much as $250 to $1,000 per MWH. When this happens, DEC is bringing in substantial revenue. This is important because DEC costs over $250 million.
Currently wind power is about 33% of electric power in Texas. Wind has just passed coal generated power. Right now, solar power is about 1%. Huge solar farms are currently being planned. At least five major natural gas generating plants are being built. Coal plants are shutting down and will soon be gone.
Here are my predictions: Solar will become the major supplier of electricity in Texas in the next 10-20 years. Wind turbines when they reach the end of life, will not be replaced. Electric cars are just in their early stages and will phase out gas cars. This may take a long time since an excess of oil may keep gas so cheap. Instead of gas stations, we will have charging stations. Tech advancement will allow cars to be charged as fast as you pump gas now. Our air will be much cleaner since all of the cars will be electric. Much less CO2 will go into the atmosphere. Global warming, who knows??
I will be safe making these predictions since I probably will not be here when most of it takes place. And who will remember I made the predictions?