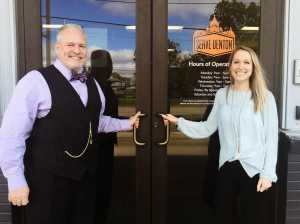 PointBank is donating $30,000 to the Serve Denton Capital Campaign, according to a news release.
The Denton Community Food Center waiting room will be sponsored by PointBank and will be named after PointBank President Ray David Jr.'s mother and stepfather, Bill and Linda Brady, who volunteered at the Food Center and shared their passion for giving back with Ray.
"That's part of being a community bank," Ray David Jr. said, "being part of the community."
David, who was born and raised in Denton, said he would encourage others to support Serve Denton's Capital Campaign because "you get to make a large impact helping a lot of areas that need it, from mental needs to physical needs, in a very efficient manner."
Serve Denton's Capital Campaign will bring food assistance, medical care and an advocacy center to one centralized location in Denton, according to the news release.
Once all phases are complete, Serve Denton will be the second largest nonprofit center in Texas and the largest in North Texas. It is projected to serve more than 16,000 people during the first year of operations.