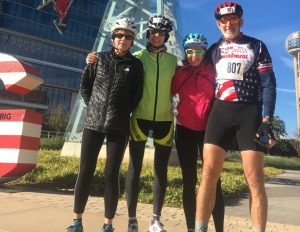 When Mark Solow of Highland Village started Pathfinders Fun Cycling in December 2010, it was often just him and his wife, Ruth, going on rides together at the beginning.
Eight years and hundreds of rides later, the group has grown exponentially.
"We thought it would be fun to ride with other people," Solow said. "So I started contacting the local bike clubs I found online. Thankfully, one of them was brutally honest when he wrote me back and said, 'You will need to be able to maintain at least a 17-mph average speed for 30- to 40-miles to ride with us.  If you can't, we'll drop you.'
"So, not able to find a local group that we could keep up with– and figuring out how to create a Facebook Page and create an Event on Facebook– Pathfinders was born; at probably the worst time of the year to organize group bike rides."
Today, there are more than 1,200 local area cyclists in the Pathfinders group and 300 more online members. One must ride a bicycle and live in the DFW area to be eligible for the group.
"We are not a club," Solow said. "There are no fees or costs to ride with Pathfinders. We just organize rides and people are welcome to join us.  We only ask two things:  One, that you wear a helmet; and two, be able to average 10- or more-miles-per-hour for at least five-miles on your own before joining a ride.  We are a no-drop group and don't want to hold up the group.  As a group, we typically average 12- to 14-mph, depending on the riders that day."
The group draws mostly from the southern Denton County and northern Tarrant County regions, but has riders from as far away as Sanger, Ft. Worth and Mesquite.
"Pathfinders rides are typically in the 15- to 20-mile range," Solow said. "Often, we have multiple distances you can choose, like when we ride to Denton, you can choose to ride 8- (beginner), 18- (intermediate), or 33- (advanced) miles. The longest we ride as a group is usually the Superbowl Ride every year (36 miles) when we ride the White Rock Trail to White Rock Lake, then the Santa Fe Trail to Downtown Dallas; and, then shared lanes to the West End.  It is an annual lunch event that the oldest bike club, Greater Dallas Bicycle Association, has been organizing for more than 20 years."
The Pathfinders group has pharmacists, pilots, retirees, computer programmers, nurses, and teachers among its ranks and, for some people, the group provides an opportunity to help cope with personal difficulties.
"My husband's health was not great five years ago," said Debby Quisenberry, a compounding pharmacist from Highland Village. "I needed a healthy and fun outlet.  My friend told me about the Pathfinder's cycling group.  I only have a hybrid bicycle, so I was a little reluctant about riding with a group.  But, I was hooked after the first ride.  Not only was it fun, but I was better able to focus on taking care of my husband.  Since then, we have all become great friends."
When Bill Featherstone joined the group, he was riding a Schwinn 10 from the 1970's and said he was persuaded by Solow to invest in something new.
"Mark convinced me that I should upgrade and get a Trek Hybrid," Featherstone said. "He went with me to Bicycles Plus to purchase the bike. About a year later, I upgraded again to an Orbea Orca, a moderately priced road bike.  Mark also purchased a bike for himself and Ruth, his wife.  He called me on the phone and said that I should go to this local bike shop and get the same deal that he did."
Pathfinders has discounts at several area bike shops.
Featherstone, an equipment salesman from Lantana, said he was not only impressed by how welcoming Solow was to him, but also how knowledgeable he was about cycling.
"Mark is the consummate bike enthusiast, knowing what to purchase and where to purchase it," Featherstone said. "I have purchased a bicycle rack for my car and he told me what I should get and where I should purchase it.  If it is for a bicycle and Mark suggests buying it, I do.  He is like the Consumer Reports of bicycling."
Pathfinder's organizes weekly, year-round rides, some of which are charitable, designed to raise funds for various causes. These includes the St. Jude's North Texas Bike Rally and Ride Ataxia, a ride in Denton that supports fighting the disease Friedreich's Ataxia, a neuromuscular disease often misdiagnosed as MS that also affects a Pathfinders member.
The mission of Pathfinders Fun Cycling is to introduce and get people back into cycling by creating fun and safe group bicycle rides, primarily on MUPs (Multi-Use Paths).
Solow said, while most of the riders are experienced, he does consider Pathfinders to be a "farm team" to help new riders build the legs and lungs, so that they may one day join one of the area road clubs that ride further and faster than Pathfinders.
The Pathfinders founder said he finds many aspects of the group to be satisfying, but one thing that stood out in particular came during a picnic with the Carrollton Cycling Club last year.
"Ruth and I ride with them a couple times a week during the bike season," Solow said. "When their president, Bob Wallingford, asked how many (members) started riding with Pathfinders, I couldn't believe that somewhere between a third and one-half of the people there raised their hands.  That was my most rewarding experience personally."
Solow said anyone who is interested in joining Pathfinders Fun Cycling can feel free to contact him and said he asks the same question to anyone considering taking up cycling.
"I have helped lots of people get started," Solow said. "I advise them on what equipment to buy and sometimes even go with them to a local bike shop.  My basic advice for new riders is, 'What is your health worth?'  Don't buy a mountain bike to ride on pavement or a cheap big-box store bike and expect to be able to keep up with a group.  Go to a local bike shop and invest in your health."
Contact Solow at [email protected] or visit facebook.com/groups/Pathfindersfuncycling for more information.