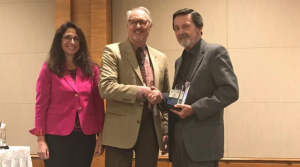 Nearly all Northwest ISD buildings have earned the Environmental Protection Agency's Energy Star certification this year for superior energy efficiency.
Buildings recognized with this certification are guaranteed to perform in the top 25 percent of buildings nationwide in terms of conserving energy, according to a Northwest ISD news release. On average, buildings with the distinction use 35 percent less energy, causing an average of 35 percent fewer greenhouse gases emitted, and they are also less expensive to operate.
Northwest ISD buildings consistently performed above that top 25 percent, with many of the buildings receiving perfect scores of 100, and none receiving a score below a 93. Just two schools haven't received the certification yet because they are awaiting results of the application process, according to the district.
Charles Ashby, district energy manager, said he is proud for Northwest ISD and attributes the certifications to the support of all district staff.
New energy-saving projects are being implemented constantly under Ashby's direction, according to the district. Many of the district's campuses have either received outdoor lighting makeovers to continue efficiency externally or are in the process of receiving outdoor lighting changes.
In the past 10 years, Northwest ISD has saved more than $5.5 million thanks to energy conservation, according to the district. With new, more efficient outdoor lighting alone, the district could save more than $10 million within the next decade.
The certifications follow the Texas Energy Summit awarding the Outstanding K-12 School Award to NISD in 2017 for its energy conservation efforts.