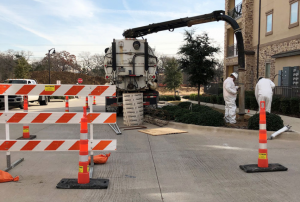 Small cell antennas are currently being installed in the Lakeside area, which will improve cell service for AT&T Wireless customers, according to Lakeside DFW.
As many Flower Mound residents may know, cell service is poor in the newly developed Lakeside for many, if not all, cell service customers.
Assistant Town Manager Tommy Dalton said in December 2017 that AT&T was expected to be the first service provider to improve their service in the new community. Lakeside DFW wrote on its website this week that crews have begun installing 12 small cell antennas to improve cell service for AT&T customers, and they should all be operational around the end of February.
The town of Flower Mound was not able to publicly comment, as of Thursday.
Jimmy Archie, managing partner of Lakeside developer Realty Capital, is quoted on the Lakeside DFW as saying that Realty Capital is "petitioning to implement a similar program for other carriers such as Verizon and T-Mobile."