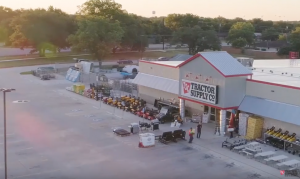 A Tractor Supply Co. store has received full approval to build in Bartonville.
The nationwide retailer proposed a 19,000-square-foot enclosed building with a 17,500-square-foot outdoor display on the northwest corner of Hilltop and FM 407.
Last month, P&Z and Town Council approved the proposed plat, a request to change the land use designation from Rural Business District to Rural Services District and a request to change the zoning designation from Agriculture District to Rural Services District. However, both P&Z and council postponed a decision on the proposed Conditional Use Permit to further look into some electrical easements, according to Town Administrator Michael Montgomery.
Earlier this month, P&Z commissioners voted to recommend approval of the CUP and the site plan, with the following conditions in the CUP: no amplified outdoor speakers, no deliveries two hours outside of business hours and black matte fence and masonry columns for the outdoor display area.
This week, Town Council approved the CUP and the site plan, giving Tractor Supply full approval. All the company will need to do is turn in building plans to receive a permit to build.
No start or completion date was available as of Thursday, according to Montgomery.