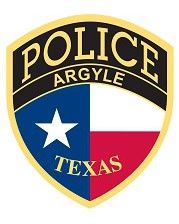 The following is a summary of incident reports recently made to the Argyle Police Department as compiled by the staff of The CTG:
On Oct. 3 at 10:19 p.m., a Country Lakes resident called police because he could hear "screaming" from what might be a party on Sandy Cove. The responding officer found several adult couples talking and laughing in a backyard. They were advised to keep it down.
On Oct. 9 at 4:05 p.m., someone reported that a neighbor was shooting fireworks on Willow Street.
On Oct. 11 at 11:56 a.m., a worker called police to request a welfare check because while he was working in a yard on Mosswood Drive, he looked through the back window and saw the homeowner in his recliner "and looked to be in an uncomfortable position." Police went to the house and the subject was OK, he was just taking a nap.
On Oct. 11 at 2:22 p.m., a woman flagged down an officer on Meandering Creek Drive to complain about TxDOT construction and to get directions.
On Oct. 12 at 2:06 p.m., two wayward goats were seen on the side of FM 407 near South Gibbons Road. They returned to their pasture.
On Oct. 13 at 5:57 p.m., three cows got out on Old Justin Road near I-35W. The officer was able to get them back in their fence and spoke to the owner, who said he would repair the fencing.
On Oct. 15 at 7:41 a.m., a resident on East Harpole Road reported that someone hit their trash cans, causing no damage to them. The officer drove around the area but was not able to locate the offending vehicle.
On Oct. 15 at 8:35 a.m., a resident on Goodnight Trail reported that a man approached their home, saying he was there for work, and then went up and down the road. The officer found that the landscaping crew went to the wrong house.
On Oct. 20 at 10:17 a.m., two goats got out on Hickory Hill Road. The owners put them back in their fence before the officer arrived.
On Oct. 20 at 2:36 p.m., someone called police about an "extremely emaciated horse" on a property on Crawford Road. The owner told the responding officer that the horse is properly fed and taken care of, it is just really old.
On Oct. 21 at 4:45 a.m., an officer stopped to check on a report of a suspicious man in a vehicle in the parking lot of Cross Timbers Community Church. The officer found it was just a man waiting for church to start.
On Oct. 27 at 9:22 p.m., someone called police concerned for the welfare of a woman on Hickory Hill Road because she said she had spoken to her an hour ago and now can't reach her. An officer went to the house and found the resident was fine. She said she had just spoken to the caller within the last 20 minutes.
On Oct. 28 at 11:43 a.m., a driver reported "50 to 500 motorcyclists" were headed north on I-35W, and one of them stopped in the roadway and flipped the caller off. The motorcyclists then took the FM 407 exit.
On Oct. 29 at 1:32 p.m., an officer stopped on I-35W when he saw an elderly man standing on the shoulder. The man said he was picking up a screwdriver. The officer advised him to be more careful.
On Nov. 3 at 4:51 p.m., a caller reported a "big turkey" holding up traffic on Hwy 377 at Frenchtown Road. The turkey trotted off before the responding officer arrived.
On Nov. 4 at 9:23 a.m., a caller reported a turkey south on Hwy 377 south of FM 407. The responding officer said the turkey crossed the road for unknown reasons.
On Nov. 7 at 8:15 a.m., the turkey wreaked havoc again on traffic at Frenchtown and Hwy 377. It eventually left the roadway. It happened again on Nov. 11 at 9:47 a.m. and on Nov. 16 at 7:58 a.m.
Multiple people called police, as they have in the past, about a horse in a field on Crawford Road near Hwy 377 that the callers believe looks too skinny. The horse's owner has confirmed that the horse eats well and is under a veterinarian's care, but it is very old and is unable to maintain proper weight because of health issues.
On Nov. 20 at 2:45 p.m., a man on Old Town Boulevard called police because there was a male subject he believed to be homeless laying on the back step and covered with blankets, and the caller wanted him removed from the property. An officer found he was not homeless, but waiting on his friends to pick him up. The officer gave him a ride.