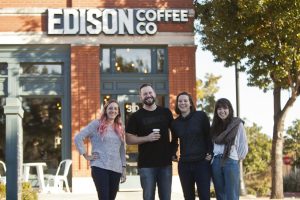 If you haven't stopped by Parker Square on FM 1171 in Flower Mound lately, you may be missing something. A quiet revitalization is in progress.
"We've been working on tenants for about four years and it seems like things happen all at the same time," said Phyllis Garcia of Bridge Realty of Texas. "It has taken a lot of work and time over the last few years and it is now coming together with a great mix of tenants that are excited to be in the Parker Square community again."
The most recent increase in activity follows the opening of Midwest State University's satellite campus this summer.
In addition to the school, recent openings include Hive Bakery, C2 Learning, Proper Design and Kama Jiu-Jitsu, as well as the lease renewal of the popular Yellow Rose Steak & Chop House, which celebrated its 10th anniversary this spring. In addition, the popular Flower Mound Farmers Market has been a weekend attraction since late 2016.
Bridge Realty has also expanded its office space to 400 Parker Square, Suite 270H. The landlord, Parker Assets I, has been working to rebrand the development as "Parker Square on Main."
Phyllis and Lionel Garcia of Flower Mound started Bridge Realty of Texas in 2016 and– with more than 22-years of experience in Denton County– have now added new agents to reach more clients. As a result, the office and retail space inventory in the nearly 20-year-old center has been shrinking.
Edison Coffee 
The popular coffee shop that came to Parker Square in mid-2017 is expanding into larger space at the center.
This will be our flagship shop and long-term home for our company," said Edison Coffee owner Melanie McWhorter. "Because of this, we're working closely with our architects on elements that not only highlight our company values, but also provide a unique and curated atmosphere designed to fill our community's many needs."
Customers can expect to see the traditional Edison lighting, complemented by steel and glass dividers, concrete countertops and tables, warm tones and ample comfortable seating options by Dustin Wekesser of Total Art Design and Architecture.
"We are waiting until our soft opening to share specific details, but I can tell you that we will be growing through multiple avenues," she said. "Those avenues will include new bakery and breakfast options, lunch, grab and go plus expanded catering. We'll be expanding our vegan and gluten free options as well. We are already putting a lot of thought, creativity and care into what we're exploring with food."
The new Edison Coffee, in a former restaurant space at 420 Parker Square, is adding a commercial kitchen to provide Edison with a new and expanded food program.
"We are adding a small selection of rare and incredible craft beers and wines that will be unique to the area," said McWhorter. "Our new space will also showcase our creative side with art, merchandise, and lots of plants/greenery. It is our hope that this space is marked by beauty, inspiration, and comfort."
The expanded cafe will also feature meeting room space designed for study groups and small gatherings that will be able to be reserved.
A Coffee Education Lab area will be dedicated to coffee research, coffee cuppings (tastings) and classes for coffee consumers and enthusiasts, as well as its partner shops that serve Edison Coffee.
"With the large space, we'll be hosting community events often," said McWhorter. "Look forward to live music, local maker showcase days, events for nonprofits and, of course, more of the fun community parties that we're known for."
The new Edison Coffee is expecting to open its doors in mid- to late January. The dedication to Parker Square is related to, "the timeless feel of the center, the trails behind us, the park, the amazing property management/owners and, of course, our awesome business neighbors," said McWhorter.
"When it came down to our business growing and needing a larger space, we knew we wanted to grow here with Parker Square."
For more information, visit: edisoncoffeeco.com
Indigo Art and Frame Shop 
Opening back on Sept. 25, with its official Chamber of Commerce Ribbon Cutting on Nov. 14, is Indigo Art and Frame Shop at 350 Parker Square.
Fifteen-year Flower Mound resident Sibyl Alleyne is the owner; while the framer has lived in Lewisville for 10-years, for a total of 30-years in framing experience and design expertise.
Services offered include: custom framing; a full-service frame shop; quick turnaround; and, 100-percent acid-free conservation materials to protect framed artwork at affordable pricing.
In addition, it's an art supply retail store featuring fine supplies by Golden, Liquitex, Canson, Qor, Daniel Smith, Pan Pastel and more quality materials acquired from local suppliers.
"Our mission is to support local talent and give back to the community by supporting the Visual Arts," she said. "We have a passion for Art and are overwhelmed by the amount of talent in the Flower Mound Area."
Indigo Art and Frame features a local artist from the Flower Mound, Lewisville and Denton area in the shop and on its website each month. Artists are invited to display their art and sell completed works on consignment in the store. It also hosts artistic technique demos by local artists.
Hours are Tuesday through Saturday, 10 a.m. to 6 p.m. For more information, visit: indigoartandframing.com or call 972-537-5006.
Lil' Vogue 
Lil' Vogue is an upscale children's consignment store located at 840 Parker Square, which will be opening soon.
"The family business is owned by Dorothy and her two daughters," said family spokesman Jerome Paclibare of Flower Mound.
Just like the name suggests, Lil' Vogue is a store where "consignment meets boutique" and customers will find name-brand, "gently-loved," children's clothing and shoes, plus maternity and baby equipment.
Customers can shop with confidence that items are hand-selected, carefully checked for quality, and are in excellent condition.
"We will offer cash on consignment or store credit for the latest styles that your little ones have outgrown," said Paclibare.  "Finally, we will be providing embroidery and heat press services to customers who would like to personalize their children's clothing and accessories."
He added the reason the owners decided to open in Parker Square was because: "Everyone in Flower Mound knows about Parker Square and the location was ideal. Also, with the revival of Parker Square, with its new retail shops … we want to grow with it."
More Coming
Next door to Edison's new space in the former Sonoma Grill & Wine Bar will be a restaurant serving breakfast and lunch, said Garcia. It will be operated by an experienced restaurant owner that has an existing location in Frisco.
Garcia said there are only three retail/office spaces remaining on the street level, ranging in size from 3,200- to 6,000-square-feet. A variety of office spaces with different floorplans are available on the second floors.
For more information about Parker Square on Main, visit: BridgeRealtyTexas.com or parkersquare.com.