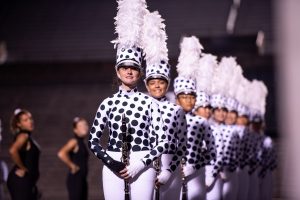 On New Year's Day, the Flower Mound High School Marching Band will step out with its first performance of 2019, down five-and-a-half-miles on Colorado Boulevard … in Pasadena, California.
The award-winning Flower Mound Competition Band will make its national TV debut in the 130th Annual Rose Parade for a television audience of 52 million, in addition to the approximately one million people watching the parade in-person.
"One band was selected last year to represent the Bands of America from Grand Nationals at Lucas Oil Stadium [in Indianapolis, Indiana]," said Brent Biskup, the director of Bands at Flower Mound High School. "It's [the Rose Parade invitation] a little bit different; most [participants] go through a big process and need to send a video and more. But, the selection committee saw us perform at the Bands of America Grand Nationals, so we didn't have to do anything more."
As official participants for the 2019 event, Biskup and Associate Director Janna Harvey were invited to the 2018 event.
"In Pasadena, it's a community event," said Biskup. "Some volunteers have been involved with the event for decades. The focus is on what's positive. It's built on people volunteering their time and meeting people from other communities."
Each year, more than 80,000-hours of combined service are supplied by 935 volunteer members of the Tournament of Roses Association. Nicknamed "White Suiters," because of the distinctive white suits every volunteer wears, the community-spirited men and women give up their evenings, weekends and holidays to ensure the event's success.
The thing that really sticks-out is the Rose Committee turning it to be about the communities," said Biskup. "Tournament of Roses President Gerald Freeny and his wife, Trina, came to Flower Mound to see the town. We had a pizza party and they went to dinner with LISD administrators."
The majority of the band– 340 total with color guard members– five band staff members, Flower Mound Principal Sonia Lail and one assistant principal, plus LISD Superintendent Kevin Rogers will board seven flights to California on Dec. 29. Biskup said they'd investigated the cost of chartering the flights, but it was too expensive.
"We exist in an environment where the bands are really good and the focus is to compete," he said. This trip, we get to just go and see some different things and experience new things."
Among the additional performances are: Band Fest, at which all the Rose Parade bands get to perform for each other; as well as a Disneyland parade in Anaheim.
"We get to tour the float preparation area at the Rose Parade staging area and get to go backstage at Disneyland and see how it works and meet [Disney] artists," said Biskup.
The 2019 Grand Marshal for the 130th Tournament of Roses Parade, themed "The Melody of Life," is singer, songwriter and philanthropist Chaka Khan.
The Flower Mound entourage will return on Jan. 3.
The Jaguar band's recent awards include: 2015 and 2016 BOA Regional in Dallas and Super Regional wins in San Antonio; the 2016 Class 6A State title; 2014 sixth-place at BOA Grand Nationals; 2017 fifth-place at the BOA Grand Nationals.
The band's 2018 performance focuses on pop art and is called "Pop!" It highlights artwork by Andy Warhol, Marilyn Monroe imagery and graffiti art from Keith Haring.
The music features a positive message using wind band songs from Julie Ann Giroux, "The Speed of Heat;" John Mackey, "The Ringmaster's March;" as well as Cindy Lauper's "True Colors."
In 2018, the band won the Dallas Regional event, then won BOA Super Regionals– out of 84 bands– in San Antonio on Nov. 2-3; and took second-place out of 41 bands in the Class 6A UIL State Marching Band Contest at the Alamodome in San Antonio.
Transportation, hotel accommodations and meals are no small expense. A year of fundraising has been ongoing, but additional donations are being accepted.
All donations go directly toward getting band members across the country and are greatly appreciated. To visit the FMHS Booster Club site for more information or make a donation, go to: fmhsband.org.
[The Cross Timbers Gazette will post an update and a video featuring the FMHS Competitive Marching Band's experience in California in January at www.crosstimbersgazette.com.]