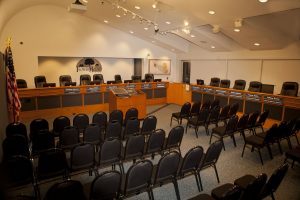 After 25 years and a month, Flower Mound will open the doors of its new Town Hall on Monday. An additional three months will be used for demolition of the existing building and construction of new parking spaces.
The $15-million, 46,000-square-foot project is located on the same property as the current Town Hall– 2121 Cross Timbers– on the southeast corner of FM 1171 and Morriss Road. The current facility opened back on Sunday, Nov. 14, 1993.
Prior to 1993, the municipal staff and government offices shared space with the town's first responders in the main fire station on Cross Timbers, which used to stand on the same spot as the new Town Hall.
It seems to be an unusually long time between the time when pioneers settled the area back in the mid-1800s, to finally having an official Town Hall; but town residents didn't vote to incorporate until Feb. 25, 1961 to avoid annexation by the City of Irving.
So, what took so long? The town's first official census in 1970 counted only 1,685 residents. Flower Mound's population increased substantially when Dallas/Fort Worth International Airport opened to the south in 1974.
Between 1980 and 1990, Flower Mound's population increased from 4,402 to 15,896. It reached 50,702 in 2000– an average annual increase of nearly 13-percent per year during the 1990s– making it the nation's tenth fastest-growing community.
By the 2010 U.S. Census, the population was 64,699, reflecting a 28-percent increase in a decade. The most recent 2016 estimate lists 73,547 town residents.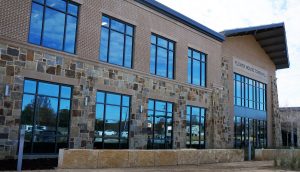 Six mayors have served in the current Town Hall: Larry Lipscomb (1992 – 1998), Lori DeLuca (1998 – 2004), Jody Smith (2004 – 2010), Melissa Northern (2010 – 2012), Tom Hayden (2012 – 2018) and Steve Dixon (2018 – Present)
In the 25 years Town Hall has been operating, there are numerous stories– and possible "closet skeletons"– within its walls.
Former mayor Jody Smith served during a period of rapid growth in Flower Mound's population, the national economic recession and homeowner crisis, plus the local impact of oil and gas companies drilling in the Barnett Shale.
Council meetings took on divisive and heated emotional exchanges, which lasted into the early hours of the following morning. While her actions may have more than "ruffled some feathers," her ability to broker compromises to reach the best result for the town as-a-whole managed to avoid fist fights in the Town Hall.
"When Tom Hayden was on council, it must've been around 2007, he brought in a duffle bag with a mason jar full of dirty water and put it on the dais calling it 'fracking fluid,'" she said laughing at the memory.
"Some of the meetings had so many people attend, it was amazing having chairs going back down the hallway past "the donut" [the reception area] back to the area with all the mayor portraits," Smith remembered.
"I remember being so excited when the library opened in the back of Town Hall," she said. "I also remember how tight the drive-thru bill payment was … I don't want to say I scraped my car, but …
"Then there was the speculation about an alleged 'pinching' incident," Smith laughed. "No, it didn't happen."
The holiday season was always a big hit for Smith.
"My favorite thing was the Christmas tree and decorations," said Smith. "One year I had to Photoshop in a missing son for our family photo."
Former mayor Melissa Northern recalled a humorous personal story in the building.
"After a late council meeting– it was probably around 2 or 2:30 a.m.– I was staying to sign some official documents; and, I got stuck in a bathroom stall," she laughed. "I called out and tried everything, but eventually I had to crawl under the stall in my suit and high heels, just as Linda (from the janitorial staff) walked in. It was quite a moment."
She also recalled arranging for the 50th town anniversary dinner for all the previous mayors– it was actually held in the fire department– and the $200 budget caused quite a controversy.
"My favorite time at Town Hall has always been Christmas," she said. "It's great to see her all decorated– dressed up. It is really special."
Perhaps it's a good thing that the building's walls really don't have ears– especially the council chamber's private room.
Former mayor Tom Hayden, not known for being a wallflower, said that [former Council Member] Jean Levenick had been overheard saying: "If Tom doesn't quit talking, I might have to choke him."
Hayden also recalled Flower Mound Fire Department Captain Mike Baldree challenging him to an arm wrestling contest, as well as Town Manager Jimmy Stathatos going down on one knee to propose to his [now] wife during a council meeting.
Of the building itself, Hayden recalls saying: "Hello [Town Manager] Jimmy Stathatos, is the HVAC broken … again?" Plus, "I had no idea 500 people could fit into that building; someone call the Fire Marshall."
Assistant Town Manager Debra Wallace said the new facility will house both the current Town Hall's 61 staff members, as well as those who currently office at The Atrium down the road, for a saving of $300,000-per-year in rent.
She added that offices in areas of expected future growth are included, in addition to second-floor expansion space, if needed in the future. The new Town Hall will also provide more meeting space room, storage areas and an emergency command center, in the event of severe weather or other crisis situations.
The Atrium-based staff members are scheduled to transition to their new offices in the spring of 2019.
"It is my honor to be in the Office of Mayor during the last few months of our current Town Hall," said Mayor Steve Dixon, who has been serving the town since 2004 on various boards, commissions and as a former council member.
"I have a lot of great memories here– both as a resident, council member and now Mayor. It's been nice to reflect on all the important decisions, both big and small, that were made in this building that helped our community become the wonderful place it is today.
"I look forward to being a part of the Town's first chapter at our new Town Hall and continuing our work moving Flower Mound forward."