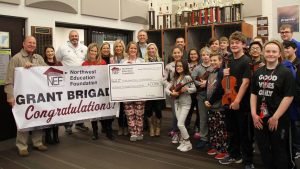 The Northwest ISD Education Foundation awarded NISD teachers more than $84,000 in innovative teaching grants on Friday.
The innovative teaching grants are the teachers' own ideas to bring to the classroom — such as technology, materials or an activity — and the Education Foundation is providing the resources to make them happen, according to a NISD news release. The foundation surprised teachers in their classrooms on Friday, presenting more than $84,000 in funding to 27 grants across 19 campuses to create innovative educational initiatives.
In the RISE to Riches grant, nearly $3,900 was awarded to give special education students at Steele Accelerated High School in Roanoke on-site job training to develop employability skills and an understanding of the trades, according to the district. They will gain skills in the areas of running a small business, graphic design, shirt and notepad creations and budgeting and money management.