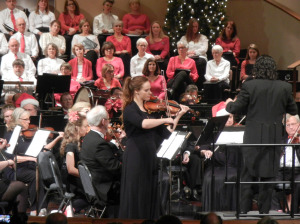 Add a little art to your life! There's no easier or better time to enjoy the arts than during the holiday. We're lucky to have many quality and varied opportunities here in our community to enjoy the sights and sounds of the holiday and other non-holiday arts, as evidenced by the following:
Studio B Performing Arts Center presents the children's workshop production of Deck the Halls with Drama, a collection of seven holiday skits. Show runs weekends through Dec. 9. Visit www.studiobtheater.com. This show is appropriate for all ages. Studio B is located in Highland Village.
Annual Christmas Concert, presented by the Voices of Flower Mound, the Flower Mound Symphony Orchestra, and the Trietsch Chancel Choir, Saturday, Dec. 15 (7 p.m.) and Sunday, Dec. 16 (2:30 p.m.) at Trietsch Memorial United Methodist Church, 6101 Morriss Road, Flower Mound. Or, check out their Facebook page: Voices of Flower Mound.
The Flower Mound Philharmonic and Preparatory Orchestras will present a holiday chamber music concert at 2:30 p.m. on Saturday, December 1 at the Flower Mound Library. For more information, please call 972.874.6165 or visit www.fmco.org.
Greater Lewisville Community Theater – Now through Dec 30 – Beauty and the Beast. It may not be a holiday theme, but it is art and joyful and local and something for the whole family. www.glct.org
The Town of Flower Mound annual Christmas Parade – Saturday, December 8, from 6 to 9 p.m. Join the Town in celebrating its 29th annual Christmas Parade! This year's theme will be "The Twelve Days of Christmas." The nighttime parade will have lighted floats parading down Spinks Road to Gerault Park. At Gerault Park, there will be a tree lighting. It's a great holiday event for the family.
The Robson Ranch Community Choir, directed by Dr. Arturo Ortega and accompanied by Paul Lees, presents their 2018 Christmas Concert – Christmas at the Ranch. Performances will be at the Robson Ranch Clubhouse Auditorium, on Saturday, December 15, 7 p.m. and Sunday, December 16, at 4 p.m. Tickets are available in advance and at the door.
Visual Arts League of Lewisville – Enjoy a collection of pieces created by members of the Visual Art League of Lewisville as they celebrate their 40th anniversary. The exhibit will be on display in the North Corridor of the MCL Grand, now through Dec. 30, 10 a.m. – 5 p.m. Tuesday – Saturday, and during public events at the venue.
For those that want to venture beyond southern Denton County, consider these holiday opportunities:
The Vocal Majority Chorus – presents their Christmas Show – The Greatest Snowman – at the Eisemann Theater in Richardson from December 20 – 23. Tickets are available in all price ranges and the shows are suitable for the entire family. Saturday and Sunday matinees are at 2 p.m. and Thursday, Friday and Saturday evening shows are at 7:30 p.m. Visit the vocalmajority.com for more information and tickets.
The Dallas Theater Center -presents A Christmas Carol at the Wylie Theater, Now through December 30. It's a classic, not-to-be missed holiday show. If you've never seen a Christmas Carol, this is great way to add this work of art to your personal list of holiday favorites.
The Texas Ballet Theater – will present The Nutcracker on weekends from now until December 2 at the Winspear Opera House in Dallas, and from December 7 through December 24 at the Bass Performance Hall in Fort Worth. There are matinee and evening performances every weekend and a special performance on Christmas Eve. Like A Christmas Carol, the Nutcracker is a traditional holiday treat to be enjoyed at least once in your lifetime.
There are numerous things to do in the area to celebrate the arts, far more this column can include. Bottom line, in the middle of this busy month, take a little time to savor the beauty of life and the season as presented through the arts.