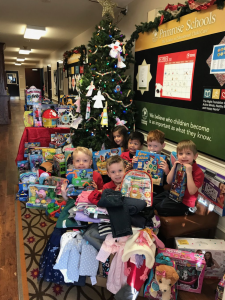 Two southern Denton County preschools recently delivered hundreds of toys and clothing items to the Christian Community Action Holiday Gift Drive.
Families with kids enrolled at Primrose School of NE Flower Mound and Primrose School of Old Orchard — located in Lewisville — donated more than 500 toys and clothing items for children from infants to teenagers, according to a Primrose news release sent Tuesday. The gifts will go to area children in need.
Primrose's annual toy drive is part of the schools' character development program, which promotes teaching children to give without expecting something in return.