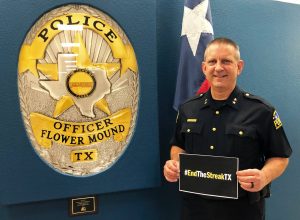 The Flower Mound Police Department is joining the Texas Department of Transportation's campaign to end the streak of daily fatal car wrecks in the state.
Every day for the last 18 years, someone has died on Texas roadways, according to authorities. More than 66,000 people have died during that time, which is almost the entire population of Flower Mound.
The Flower Mound Police Department announced Thursday that it is joining TxDOT's #EndTheStreakTX campaign, an effort to remind drivers to never drink and drive, to put the phone away, buckle up, obey all traffic laws and slow down in dangerous weather conditions.