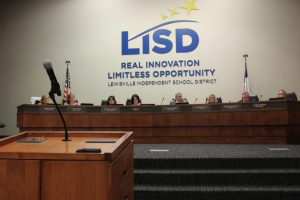 Lewisville ISD is sticking with the earlier start date for the 2019-20 school year.
Last year, the LISD Board of Trustees voted to approve a calendar that began the school year in mid-August, two weeks earlier than the usual start date. The new calendar meant that in the 2018-19 school year, students will take their fall final exams before Winter Break, which will now divide the two semesters, and the school year will end the week before Memorial Day.
Earlier this week, the LISD board voted to approve the 2019-20 school year calendar, and the district is sticking with the early schedule. The first day of school will be Aug. 13. Winter Break will be Dec. 23 through Jan. 3, and Spring Break will be March 16-20. The last day of school will be on May 21.
Click here for the approved 2019-20 school calendar.