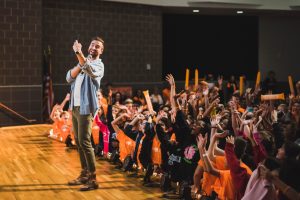 Lewisville ISD middle schoolers are keeping the #BeKind campaign going, most recently attending a Kindness Convocation last week.
More than 350 students from all 15 Lewisville ISD middle schools – Arbor Creek, Briarhill, Creek Valley, DeLay, Downing, Durham, Forestwood, Griffin, Hedrick, Huffines, Killian, Lakeview, Lamar, McKamy and Shadow Ridge – came together for the Kindness Convocation on Nov. 28 at Leo C. Stuver Auditorium at Lewisville High School, according to the district. The inaugural event featured keynote speaker Houston Kraft, whose CharacterStrong curriculum aims to inspire more compassionate cultures in schools and communities. The students, who have all been named "Kindness Ambassadors," all wore the color orange.
LISD high schoolers began working on the #LISDBeKind campaign last school year as they sought to make their schools and social media a kinder place for students to spend time together. The Be Kind effort launched Aug. 7 when nearly 900 students from all the LISD high schools got together for the inaugural LISD Kindness Convocation, according to the school district. There have been Kindness Weeks to continue to promote kinder environments at LISD schools.